Summer of '74
Posted: July 20, 2012 at 1:37 pm
In summer of 1974 and 75, these guys were some of the most talented young riders on their patch at Elouera. From left: Mark Rohr, Paul Ricketts, Mark McCarthy, Craig Langston and Luke Streater photo Tim Vanderlaan.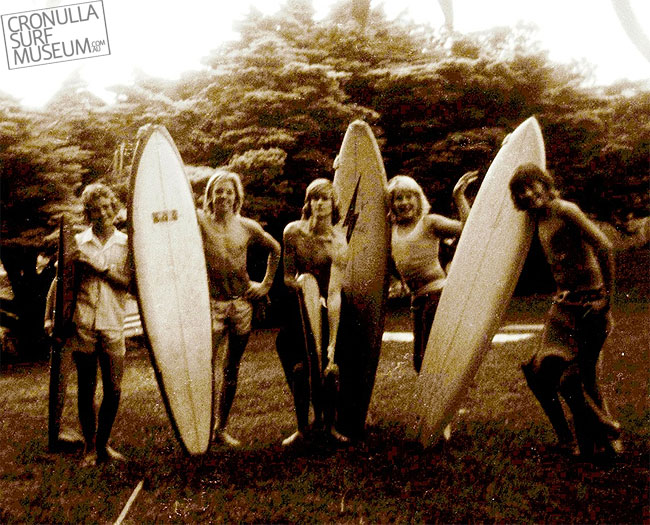 Tim Vanderlaan '74
Posted: August 8, 2011 at 6:16 pm
Tim Vanderlaan and home made 'spear board', 1974 .I asked Tim to tell me about the boy and the board.Photo of Tim taken in front of the family home at Wanda, Cronulla. It was early 1974 and I'm displaying my first home made board. My older brother Rick and myself made the board and bought the materials from Graham King's home at Grays Point. The blank and materials cost me $33, that was a lot of money considering the milko i helped do morning deliveries paid me $1.25 for 3 hours work.
The board was 5′10″ and 13″ wide. My brother read somewhere that the width of a board should be the measurement between your nipples plus 2 inches.We had seen magazine shots of Terry Fitz riding something similar at sunset in hawaii and we thought the spear shape would work at a Wanda beach break. I persisted trying to ride it for ages but Icouldn't turn the thing. I later sold to to Max Garlings of the Benz shop in Cronulla. He had the board on display amongst all the bikinis. (big thanks Tim Vanderlaan)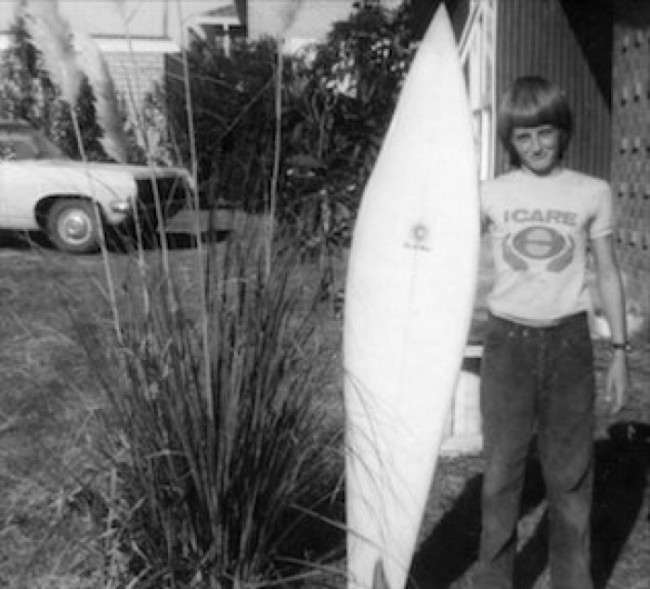 Tim Vanderlaan
Posted: June 8, 2011 at 7:01 pm
Tim Vanderlaan grew up on the hill at Wanda overlooking the beach in the family home. An accomplished Mal rider he took up Surf photography around the mid 70's which resulted  in many of his Cronulla  images appearing in magazines over the past decades. This photo taken by Tim of an empty Shark Island wave was his first published photo in Surfing World.