Feb 1964 Elouera Beach
Posted: March 22, 2021 at 9:43 am
Feb 1964. Elouera Beach. This picture was taken at the eastern end of Hume Road, and years before the road linking Wanda and North Cronulla was built. Tim Vanderlaan photo collection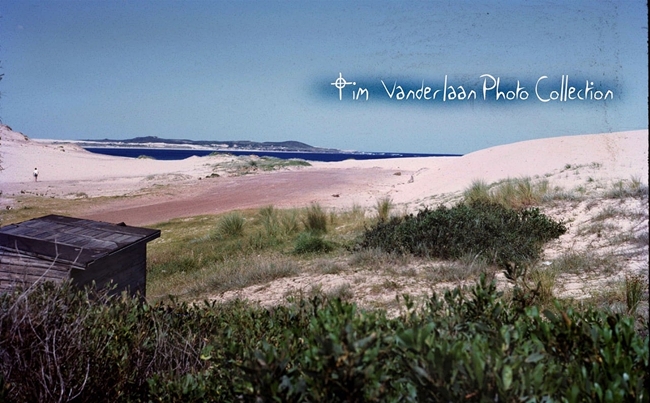 Elouera '67
Posted: January 31, 2020 at 1:46 pm
September 1987. Unknown surfer at Elouera beach captured in a moment of brilliance. Tim Vanderlaan photo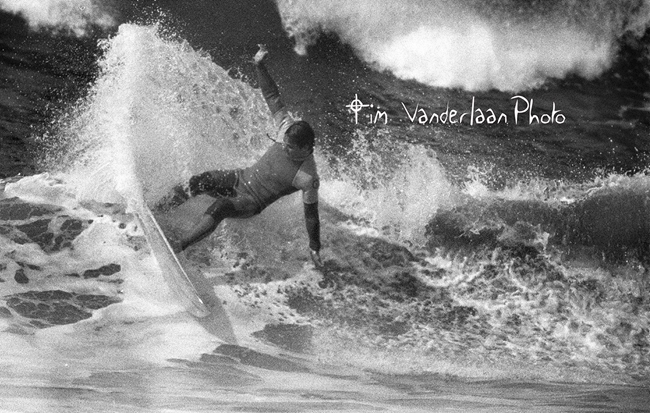 Elouera Beach '79
Posted: January 31, 2020 at 1:10 pm
1979. Elouera beachbreak with Mark McCarthy preparing to duck dive, and a few years before the current block wall was constructed along the beachfront. Tim Vanderlaan Photo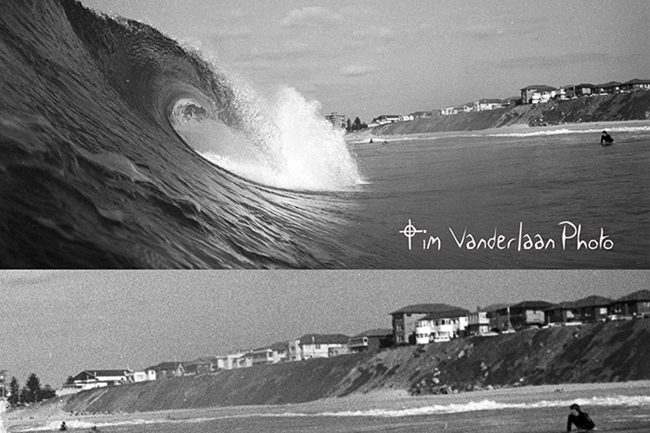 Ricky the Grommet.
Posted: August 4, 2019 at 12:23 am
August 1987 Elouera Beach Ricky the Grommet .  Tim Vanderlaan photo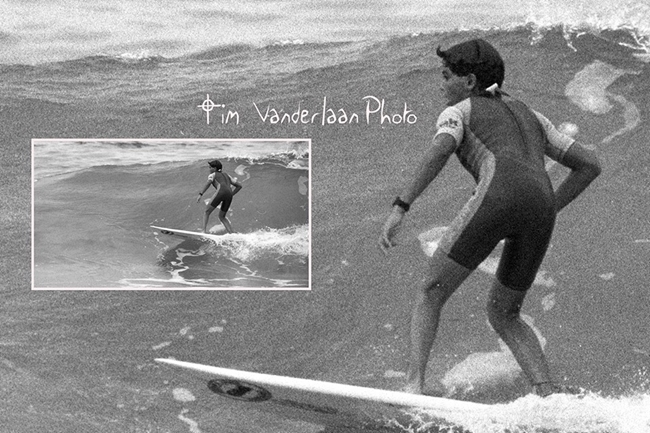 Lizard Lawson
Posted: June 11, 2019 at 10:10 am
1983 Elouera Beach. Lizard Lawson. Brightly coloured wetsuits and boards were the "norm" in the 80's. Tim Vanderlaan Photo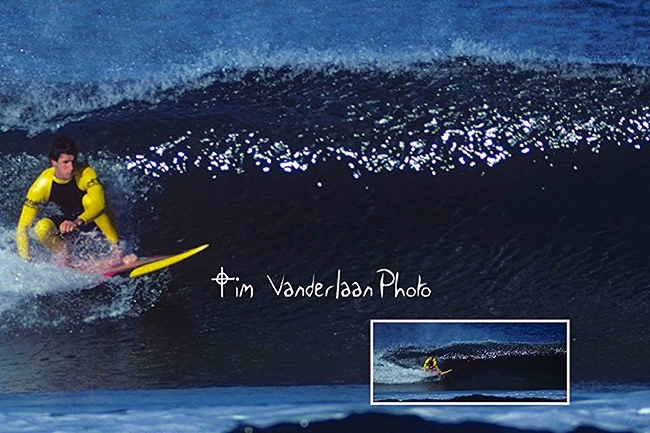 1968 Surf life Saving Carnival at Elouera Beach.
Posted: October 30, 2018 at 11:39 am
The Wanda Junior March past team in action. Swimming in the belt in big seas with seaweed around was a suicidal mission. Tim Vanderlaan Photo collection.
Elouera Beach
Posted: April 23, 2018 at 7:58 pm
The summer of 1975/76. Elouera Beach. The "surf reel" makes a great seat for this girl wearing a woollen crocheted bikini. The "surf reel" invented by Australian surf lifesavers in the early 1900's was the main lifesaving apparatus used on every beach up and down the coast for nearly a century, and now both the reel and the woollen crocheted bikini are obsolete. Tim Vanderlaan photo.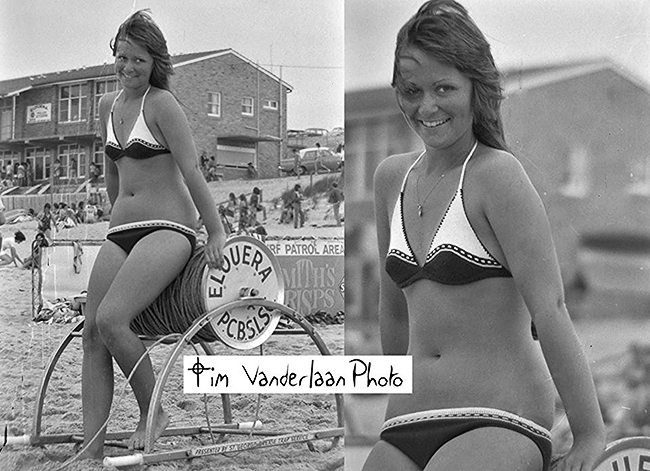 Elouera Beach 1968.
Posted: September 17, 2017 at 10:33 am
Empty waves and a surfboat. Elouera Beach 1968.Tim Vanderlaan surf photo collection.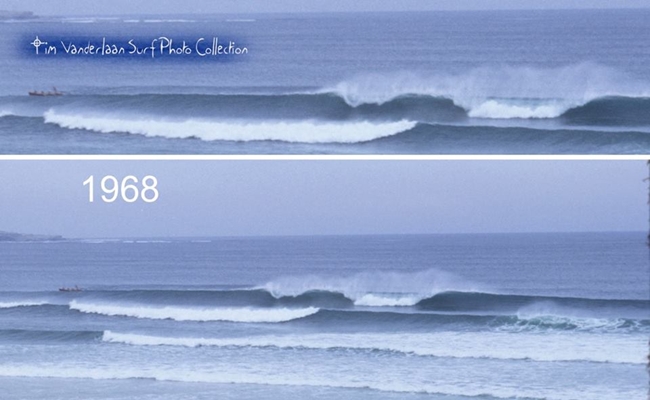 Proposed Surfboard Ban
Posted: August 16, 2017 at 10:15 am
Surfboards riders were enjoying the waves all the way fro North Cronulla to Wanda up until about '67. When the Elouera Surf Club building appeared suddenly the best banks at "Midway" between Wanda and Elouera were declared off limits for surfboards. School boy Martin Newbery was part of the protest with several letters sent to Sutherland Council. Surfers regained the right to surf midway again in February 1968.The reply letter from the Council.
" The clubbies were totally taking over the Cronulla surf scene with the need to put their stickers on your surfboard. It was the time of revolution. Council just listened to the established organisations on the beachfront. It was a time of change as free surfing life challenged the establishment just like what was going on in the USA as the " hippies " took on the governments at Washington State University etc during the Vietnam war debacle. Black rights, Woodstock, Haight – Ashbury, all happening in the summer of love.The Stones, Dylan and The Doors were pumping out the music which went with the sentiment of youth fed up with the old order" said Martin of the event.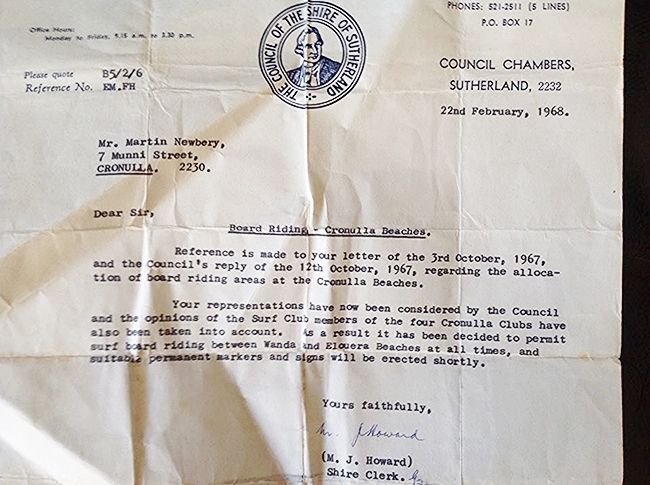 Now and Then
Posted: July 26, 2016 at 12:51 am
Elouera Board riders club started with a bunch of guys that "Hung" on the concrete steps next to the Elouera dunny's. In 1977 it was a prime spot, out of the cold westerlies winds , but in the morning sun,  and right near the entrance to the ladies toilets.  Mark Rohr seen here just returning from a surf.    Tim Vanderlaan photo.