Bobby Brown
Posted: August 16, 2017 at 10:58 am
Frame-grabs of Bobby Brown from Evo's 'Ride a White Horse'
Bobby Brown Memorial Contest '68
Posted: August 16, 2017 at 10:01 am
The first Bobby Brown Memorial Comp held at Elouera and finals at Sandshoes. Program courtesy of Martin Newbery.
Bobby Brown
Posted: January 13, 2017 at 4:01 pm
15 yearold Bobby Brown on safari up the North Coast with film maker Bob Evans.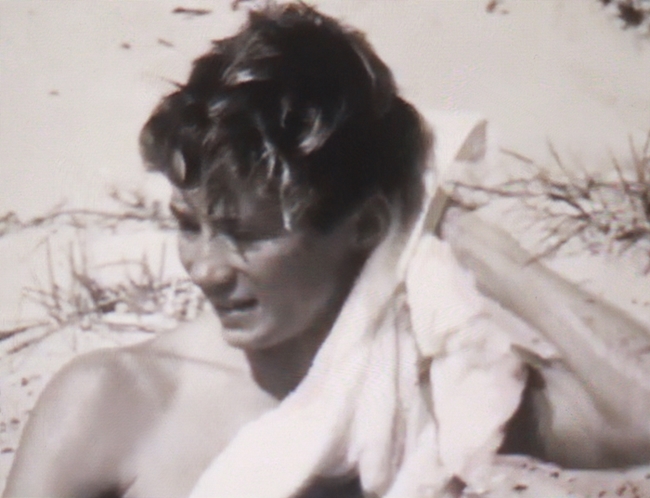 Bobby Brown 7ft 5in G&S
Posted: September 22, 2016 at 7:31 pm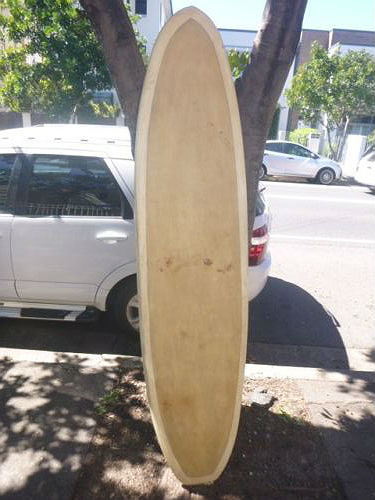 Bobby Brown '64
Posted: August 27, 2016 at 12:06 am
The 1st World Surfboard Titles where held at Manly Beach and Midget Farrelly won the event which put Aus. on the map. Young Bobby Brown represented NSW and impressed many with his stylish moves and placed 6th in the final against more experienced riders from the US. Below is Bobby's profile as it appeared in the official programe of the event.
r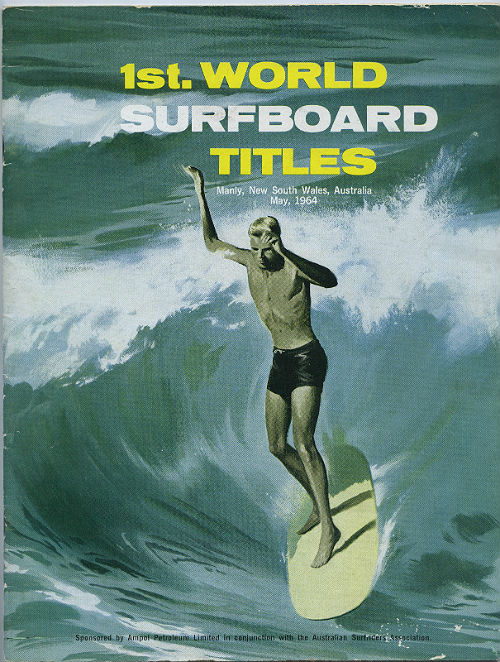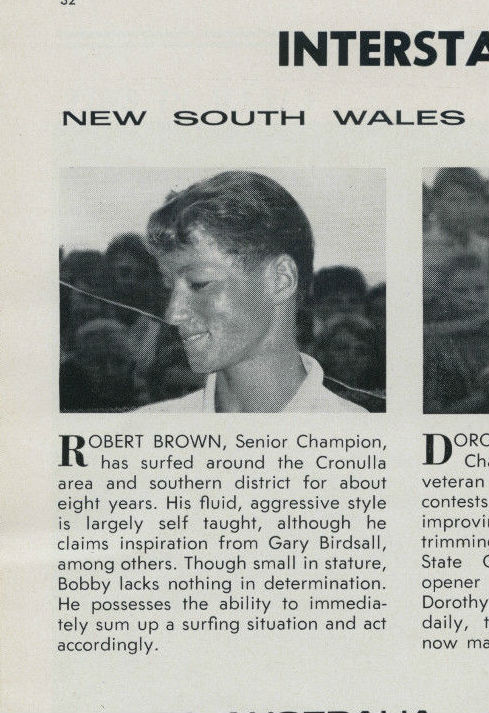 Jackson Cansdell '62
Posted: May 15, 2016 at 4:04 pm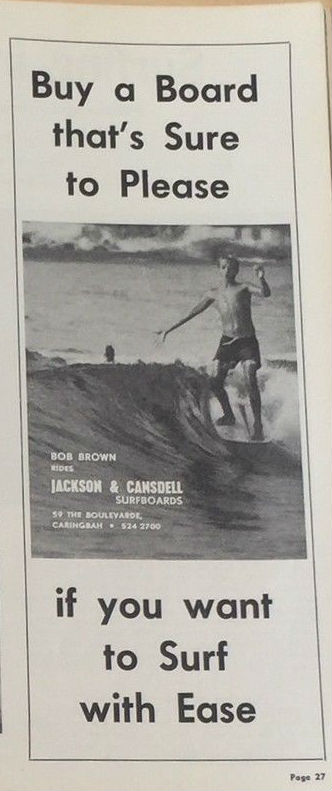 Jackson and Cansdell Surfboards '64
Posted: November 16, 2015 at 3:38 pm
Bobby Brown adv. for Jackson and Cansdell 64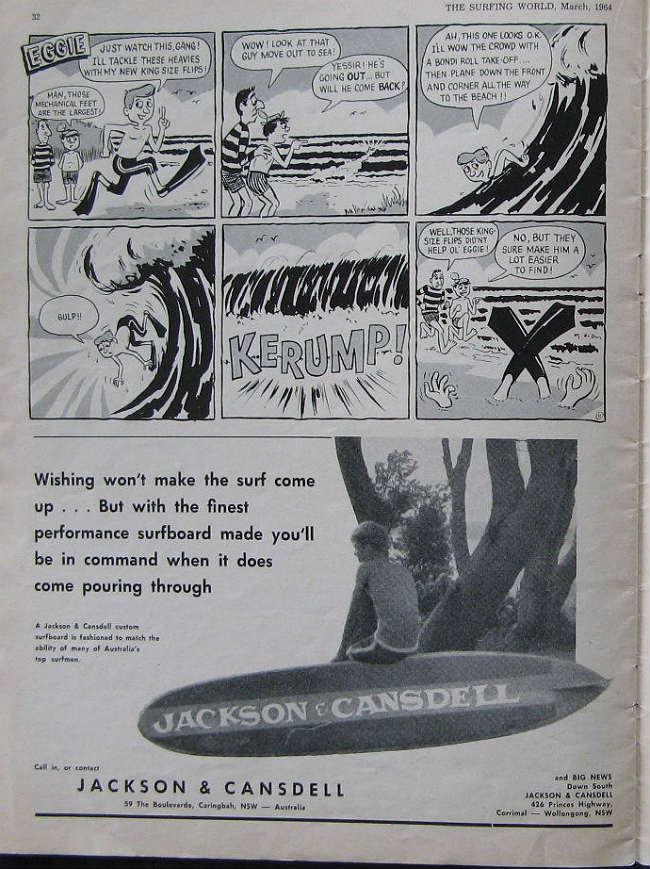 Bobby Brown '64
Posted: September 17, 2015 at 10:21 am
The Young Wavehunters – Bobby Brown, Nat Young & Kevin Platt surfing Angourie, Northern NSW from Cleaner Oceans on Vimeo.
An excerpt from Bob Evans' 1964 movie "The Young Wavehunters". Featuring Bobby Brown, Nat Young & Kevin Platt surfing off Angourie in Northern NSW.
Bobby Brown in the Media '67
Posted: April 21, 2015 at 9:48 am
From the pages of  "Surfing World" November 1967 featuring  the cover shot and a entry form for the Bobby Brown Memorial contest  to be held Feb 10th & 11th of 1968
From the Tim Vanderlaan collection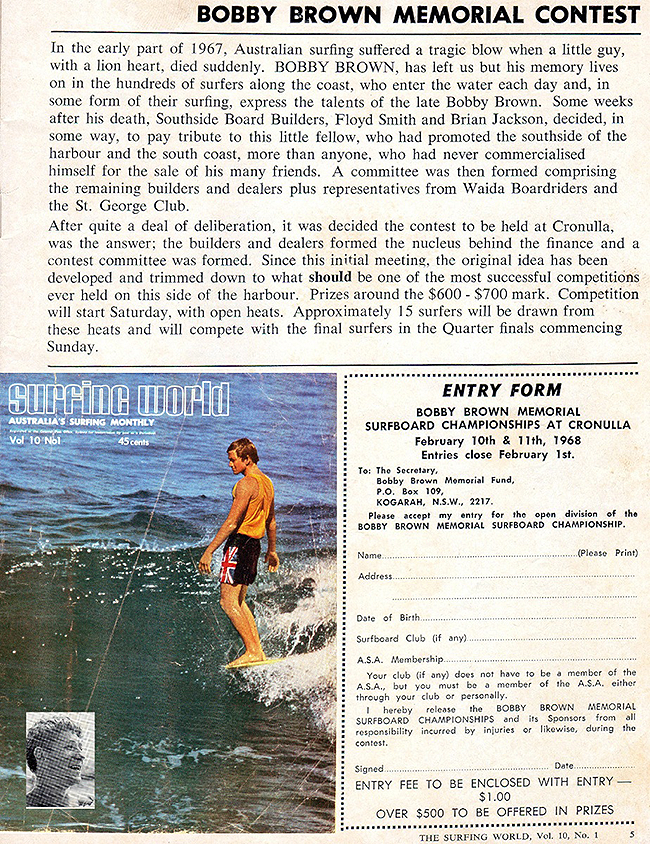 The Fantastic Four
Posted: April 4, 2015 at 2:07 pm
During the Sixties 4 Cronulla surfers rose above the pack, left to right Bobby Brown, Brian  Jackson, Frank Latta and Gary Birdsall from SW.