Adam Brown
Posted: June 23, 2018 at 2:02 pm
One of Cronulla Boardriders top competitive surfers throughout the 80s,  photos Chris Stroh.
Dean Whiteman
Posted: June 6, 2018 at 12:29 pm
One of Cronulla Boardriders main men in the 80s/90s  Deano carved out a solid competition record  and pro career before becoming the NSW rep for Rusty and later part owner.Photo Chris Stroh taken at The Point.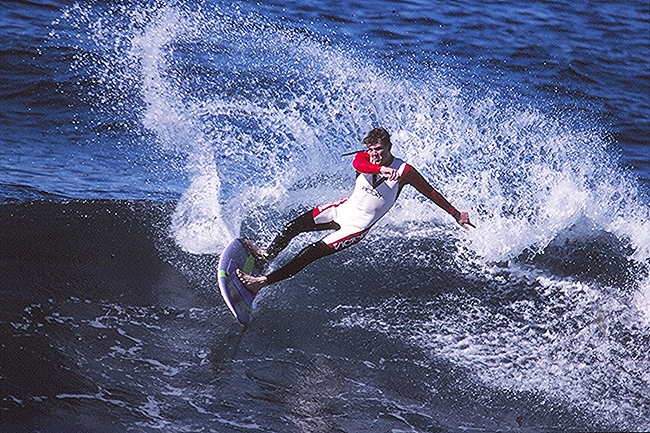 Richard Maurer
Posted: August 16, 2015 at 8:27 am
Cronulla Boardriders evergreen and backbone of the club, Richard Maurer belting an Alley lip Circa 80s photo Chris Stroh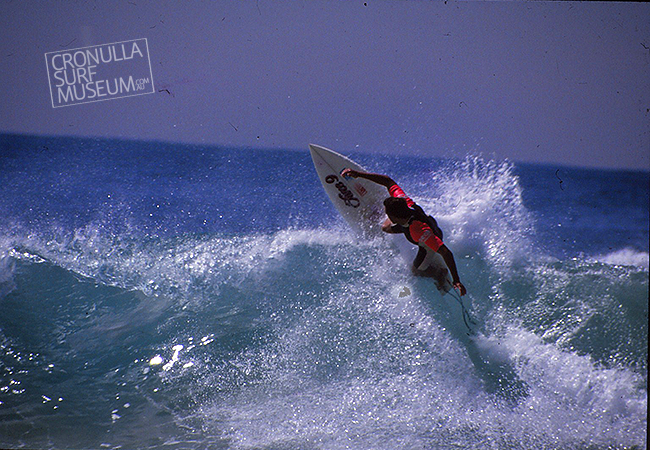 Cronulla Boardriders '92
Posted: April 30, 2014 at 10:40 am
From left to right….Standing Smurf, Bluey, Lance, Hendo, Fanga, Grub,Veagey, Craig Naylor. Sitting..Kenny,Danny Maloney, Greeny, Adam Brown, Andrew Murphy and Deano Whiteman photo courtesy of John Veage.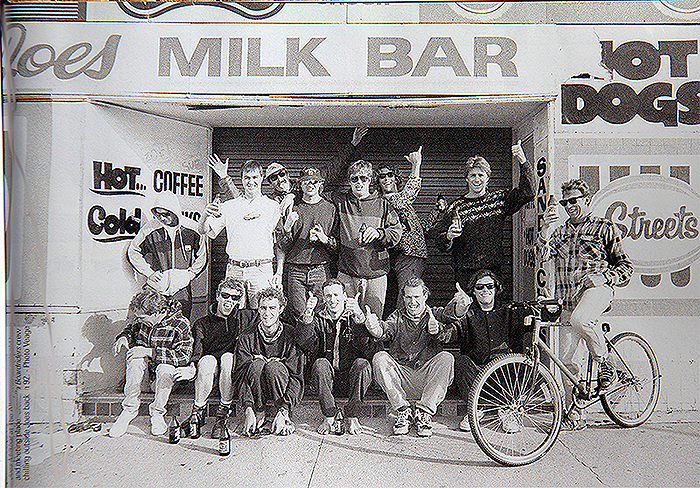 The Alley Boys
Posted: March 22, 2014 at 5:30 pm
Cronulla Boardriders with Old Joe and wife outside the milkbar. Pete Panic, Hendo, Ratso, Fanga, Roachy, Greeny, Spike James and Bluey and friends.Photo John Veage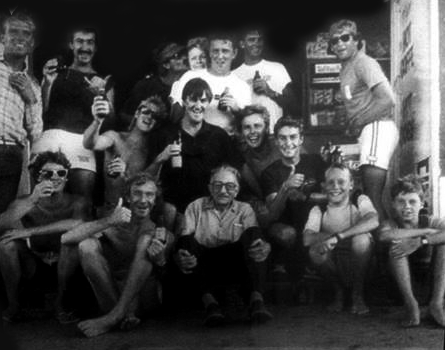 Wayne Roach
Posted: October 22, 2013 at 7:37 pm
Roachy…still going strong down in Vico these days but has strong roots in Cronulla. One of the founding members of Cronulla Boardriders and remembered well as a great surfer and shaper.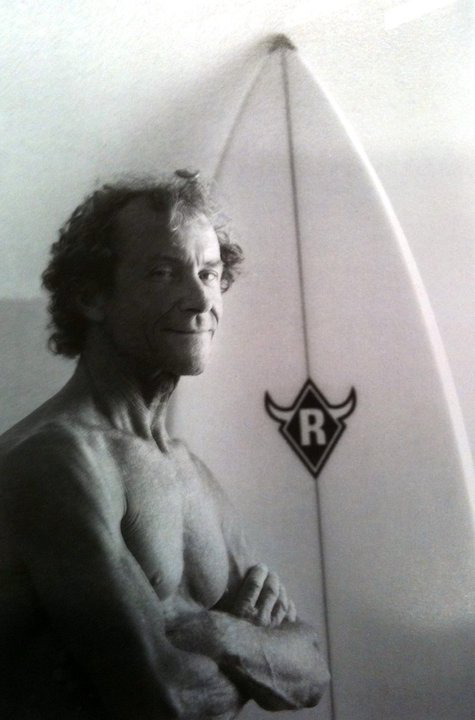 John Veage.
Posted: May 16, 2013 at 10:55 am
John Veage first came to my attention as a photographer working as Sarges apprentice  He eventually went on to become the Leaders main photographer and through his love of surfing has kept the local rag full of surf related pics and articles now for several decades. Veagy is also a lifetime member of CBC and has been the backbone of the club since day one. Photo below …..still keen as a grommet he's on it every morning at his beloved Alley. Photo Chris Stroh.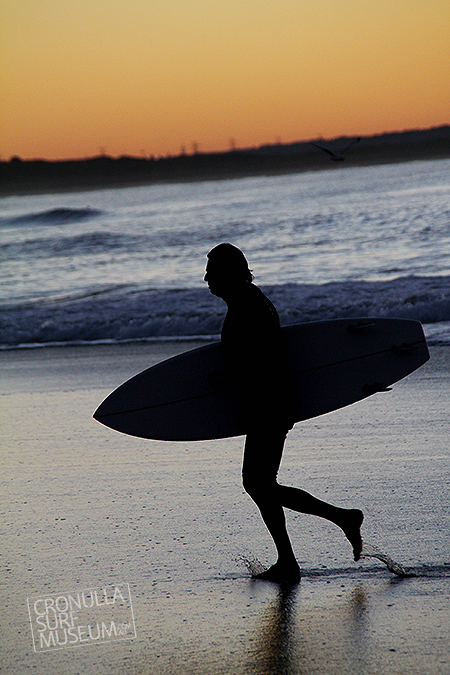 Cronulla Boardriders Club Comp
Posted: May 12, 2013 at 1:23 pm
The CBC club was formed in 1978  by G&S and since day one they still regularly hold their contests at The Alley unless there was no waves and were forced to move elsewhere. Mark Pringle was the Opens champion that year.The club at times was full of stars and was the most successful local club against other areas in Surf League and team events. Photo BWN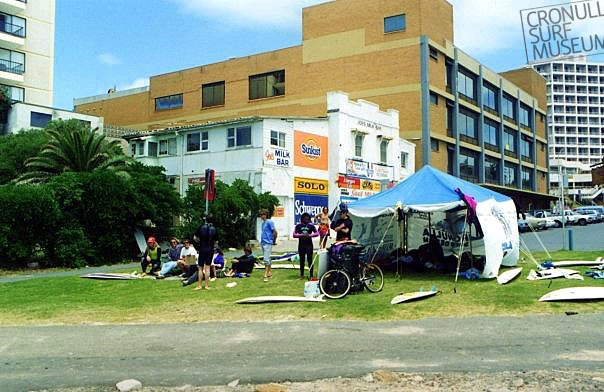 Troy Nugget Dennehy
Posted: January 29, 2013 at 2:34 pm
Nugget is best remembered for being the King of The Alley rip bowl lefts. However when the swell was up it was common to see Nugget at Southies or The Point tearing it up as well. This day taken early 90's goofy footers Nugget , Murph and Jezza took over the Point lineup and went to town. Photo Chris Stroh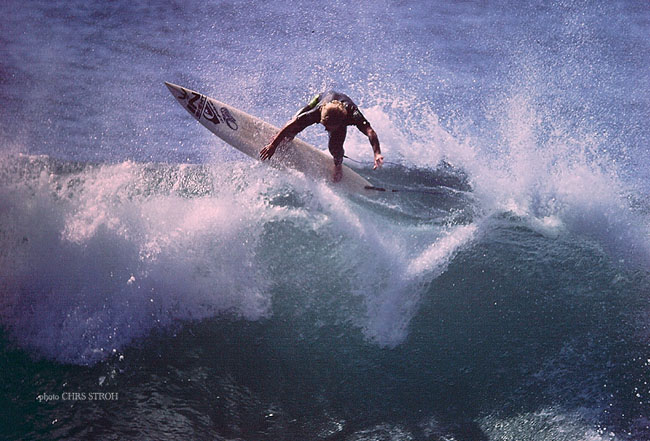 Damien Hodge
Posted: October 13, 2012 at 10:01 am
Around '90 Damien Hodge was the new kid on the block showing plenty of potential in the amateur ranks. Being taken under the wing of Dog and Jason Marsh, Hodgey was one of Cronulla Boardriders Clubs most promising stars and looked like a possible candidate to follow a similar pro career path to that of Greeny , Occy and Dog. In '95 when this pic was taken by Peter Simons, Hodgey was riding Stuart Patterson shaped Force 9 boards.