Greg Button
Posted: October 15, 2017 at 5:55 pm
Mid 1980's. Shark Island. Greg Button with his trusty camera rig and his rubber mat used as a shooting platform. Insert: Greg's famous image, the very last shot of a roll of 36 exposure film. Main shot of Greg by Tim Vanderlaan.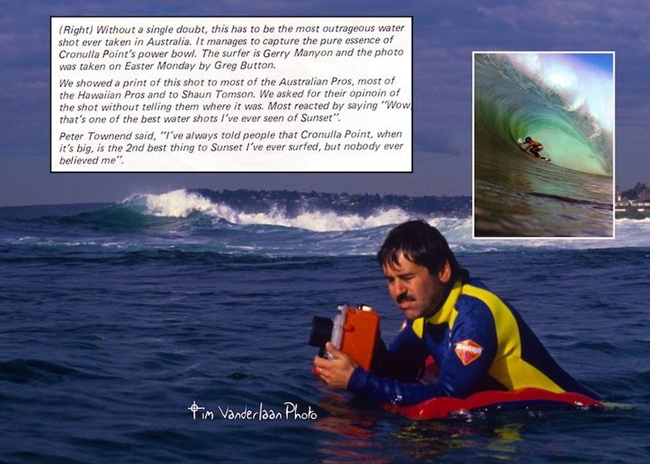 Butto Seacapes
Posted: July 23, 2016 at 11:10 am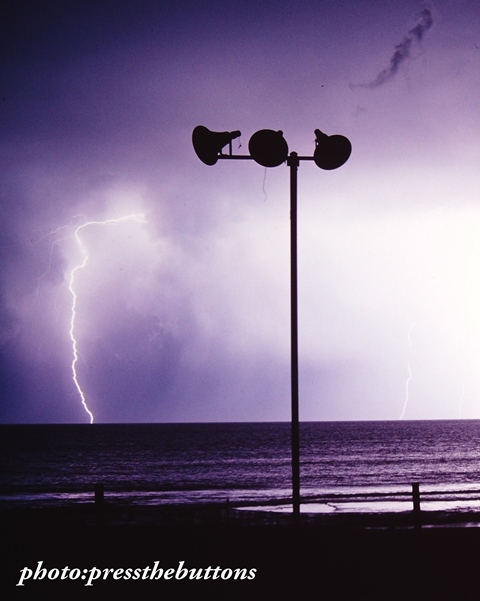 Lowtide and lightning Elouera Beach 80s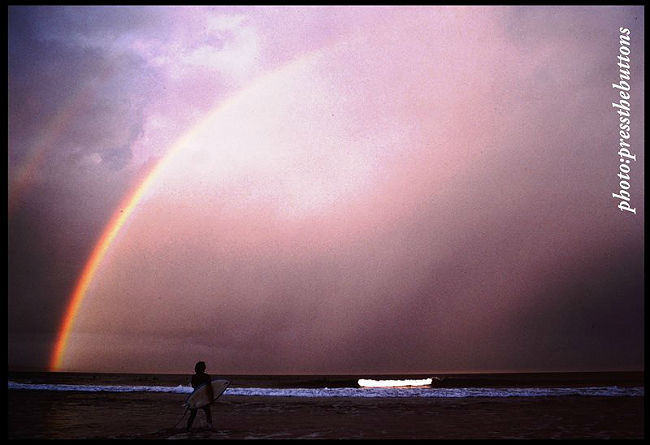 Late afternoon The Wall 70s
Droplets
Posted: July 18, 2016 at 12:24 pm
Shark Island 80's photo Button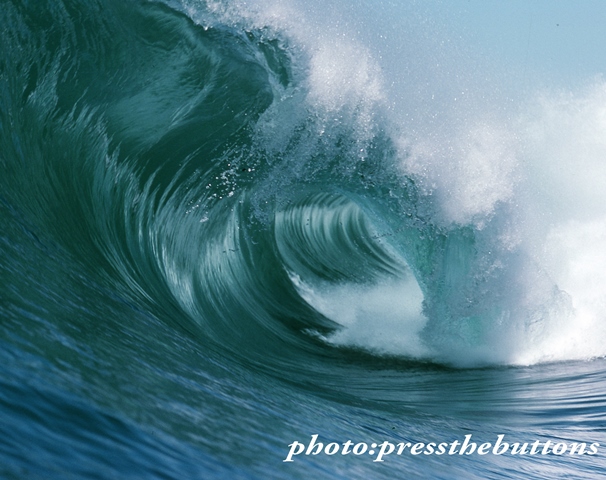 Cronulla Scenes by Butto
Posted: May 23, 2016 at 8:33 am
70's and 80's Greg Button captured these moods on film when there was no photoshop or digital images..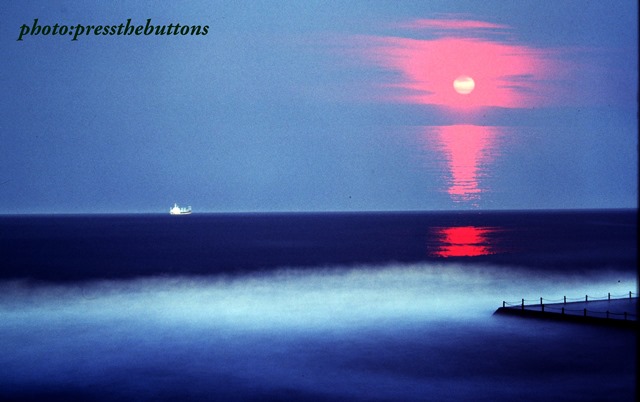 South Cronulla Rock pools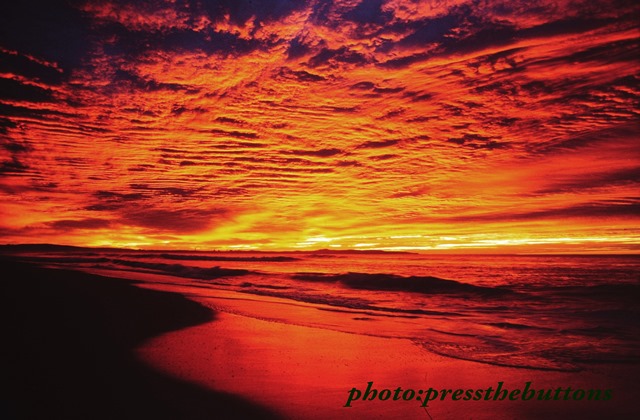 The Wall 70's
Pros in Town
Posted: February 29, 2016 at 12:58 am
In the 80's all the best named surfers on the planet turned up in Cronulla for a piece of the competitive action in a string of Pro events that run for several years thanks to local boy Graham Cassidy, all shots Greg Button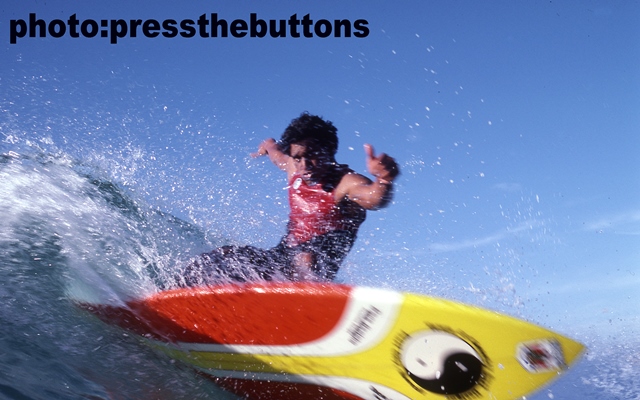 Dane Kealoha Elouera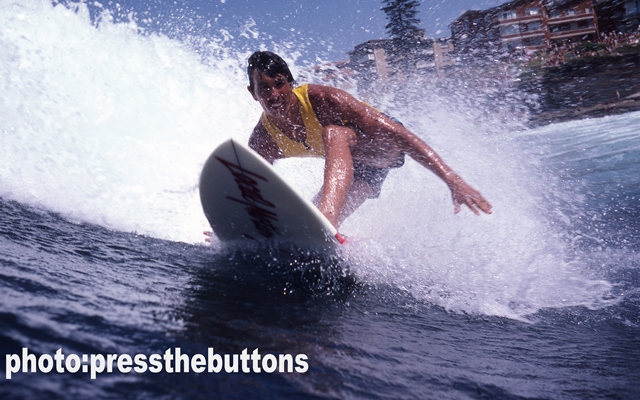 Hawaiian Mark Lidell The Point during the Straight Talk Tyre Open
Tom Carrol backside attack.The Point.
Greg Button
Posted: July 25, 2015 at 12:00 pm
Greg Button in the 1990's, shooting Cronulla Point from the land with his Century lens and Nikon, and (insert) his most famous water shot, taken of Jerry Manion in 1977.  Main shot of Greg by Tim Vanderlaan. 
Greg Button
Posted: May 26, 2015 at 9:15 pm
 In the 70's and 80's Greg Button put himself in the firing line to get some of the Cronulla's most iconic surf images. Greg is pictured here in the main shot at Shark Island shooting from the water,  and from the land with his Century 650mm lens  at Cronulla Point in the mid 80's. Greg was responsible for the best ever shot taken in Cronulla of "Popout" on Easter Sunday 1977. Photos of Greg by Tim Vanderlaan.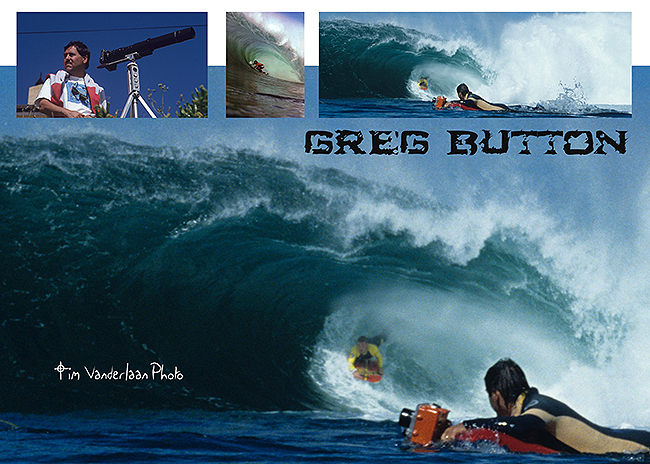 The Alley
Posted: January 18, 2014 at 6:35 pm
New swell hits The Alley while the dunes in the background still have plenty of sand in place photo Greg Button Late 70s.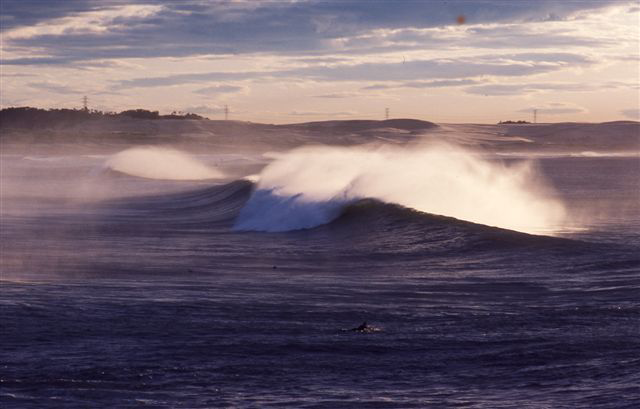 Greg Button.
Posted: December 19, 2013 at 8:38 am
Butto was renown for his water photography capturing some of the most iconic tube shots to come out of Cronulla in the seventies. Greg was also and excellent Knee Boarder who charged equally hard at The Point and Island. Here's a cover shot of Butto on the 2nd last edition of  Free Surf and a sales docket from Peter Clarke Surfboards '76.
Butto's Spoons '74
Posted: December 19, 2013 at 7:50 am
The Spoon Kneeboard was the invention of George Greenough and were popular in the early 70's. Local Cronulla Kneeboarder Greg Button had 2 Spoons in his quiver.The one on the right was shaped by Peter Glasson who made "The Colour of Thought" surfboards and worked out of  the house/shop near Tom Ugly's Bridge in '74.Photo Butto.