The Liddelow's at Wanda Beach
Posted: March 17, 2020 at 9:20 am
Remember the house on the hill just above Wanda surf club. this belonged to the Liddelows family Circa 70s and 80s, heres a few shots from the photo album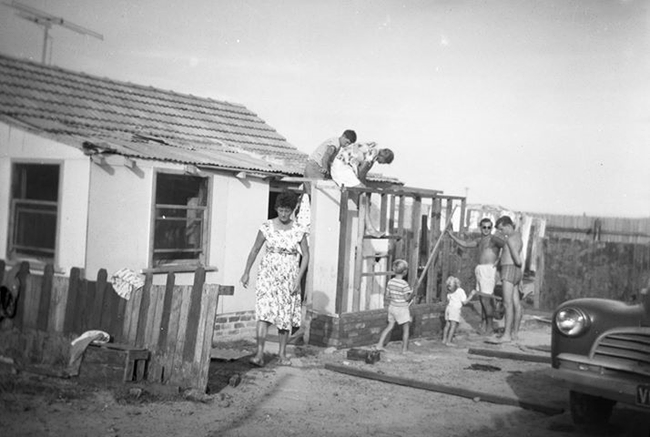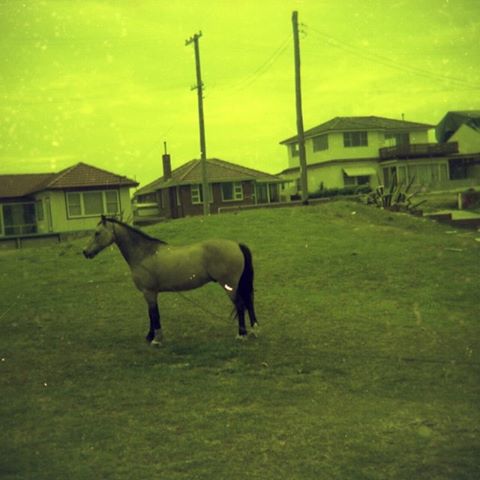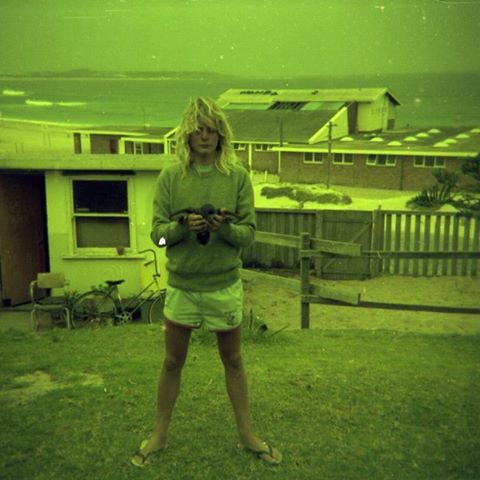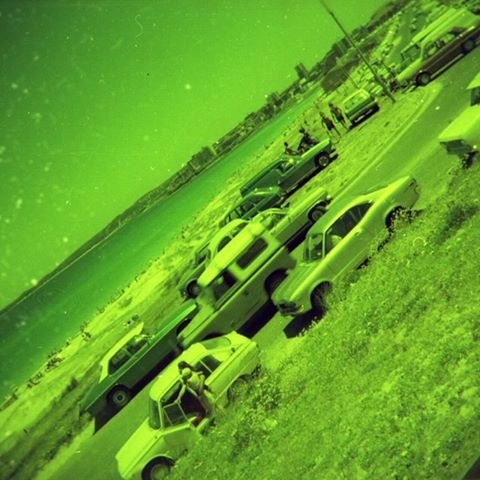 Southern Swell Exhibition at The Hazelhurst Gallery
Posted: November 26, 2019 at 6:46 am
The Southern Swell Exhibition covering the history of Cronulla surfing opened last Saturday night with  a huge turnout in the hundreds. Jacko,Gary Birdsall, Greeny and other local legends were on hand and special thanks to John Veage who was instrumental making the whole event happen. The Exhibition will be n display  until Feb 02/20.
John Veage
Jacko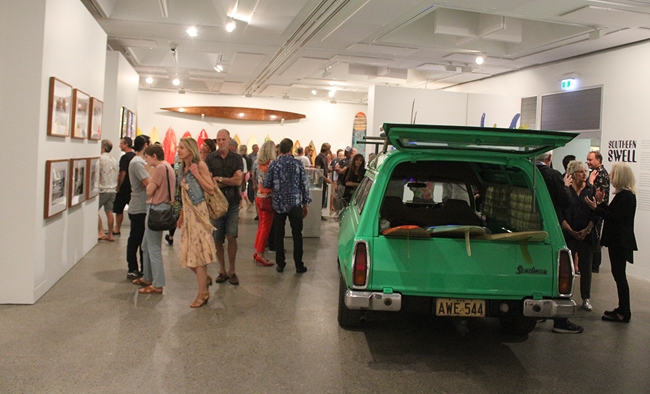 Southern Swell Exhibition
Posted: November 12, 2019 at 12:29 pm
Hazelhurst Galery is having a Surf Exhibition on the 23rd of November called Southern Swell. Make sure you check it out. It will feature the local surf culture from the 50s until now with memorabilia photos and images from photographers like Jack Eden, John Veage, Tim Vanderlaan,Sarge, Greg Button, Chris Stroh, Alistair Waddell, Bob Weeks and more.This shot Unknown cops a flogging at Shark Island Circa 80s photo Chris Stroh. More info at
https://www.sutherlandshire.nsw.gov.au/…/Com…/Southern-Swell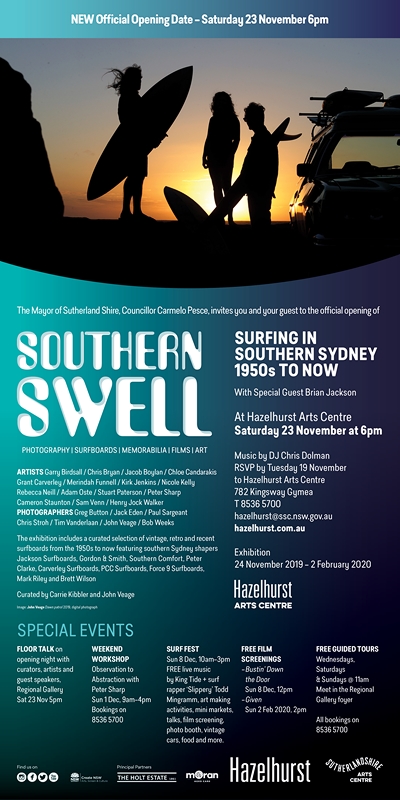 Sand Dunes Now and Then
Posted: November 12, 2019 at 12:17 pm
1980 The Hooker sand mining factory in full swing. For decades the dredgers pumped the sand to the factory for processing. More recently the land has been filled with the excavated material of Sydney's building boom, to create a new mountain on which 500 Mac mansions are now built. Tim Vanderlaan photo.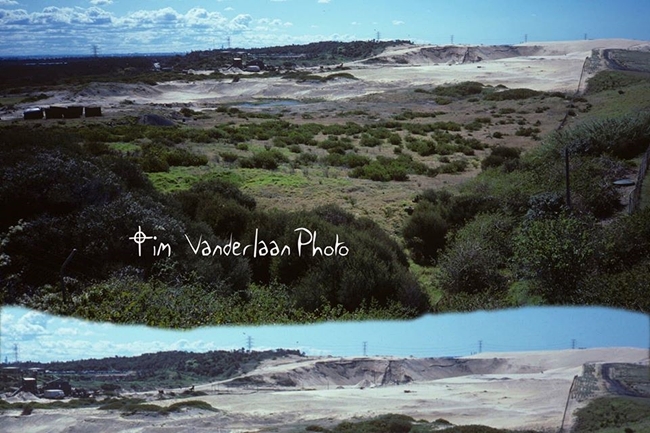 Southside Malibu Club
Posted: November 12, 2019 at 12:14 pm
2015 Wanda Beach. Occasionally the "Southside Malibu" monthly club round scores some nice waves. Contestant Rod Dale in perfect trim. Tim Vanderlaan Photo.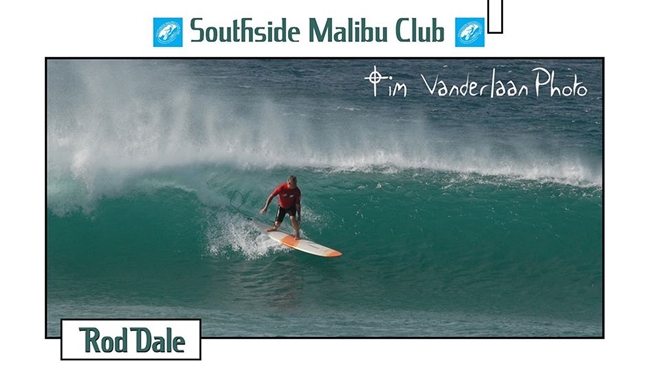 Cookie / Wally Carle Surfboard
Posted: October 19, 2019 at 1:12 pm
Matty Cook test drives a 60s Wally Carle Shape complete with skeg fin.
Jack Eden '94
Posted: October 6, 2019 at 10:37 am
1994 Jack Eden and friends. Crescent Head. Tim Vanderlaan Photo.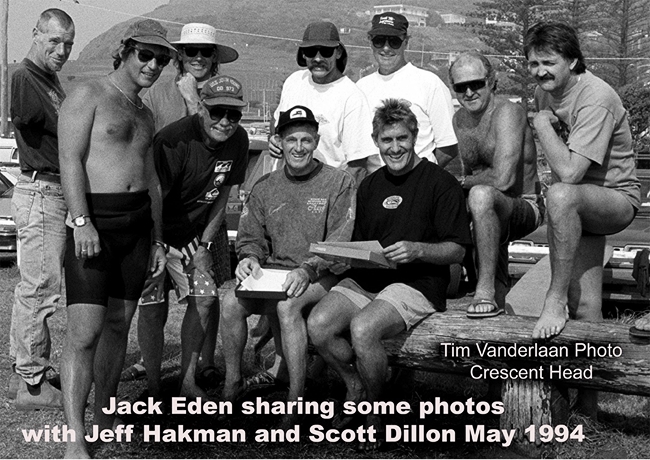 Jack Eden
Posted: October 6, 2019 at 10:35 am
1994 Crescent Head. Jack Eden knew everyone, and is seen here showing his surf photos to old mates Scott Dillon (RIP) and Jeff Hakman. Tim Vanderlaan Photo.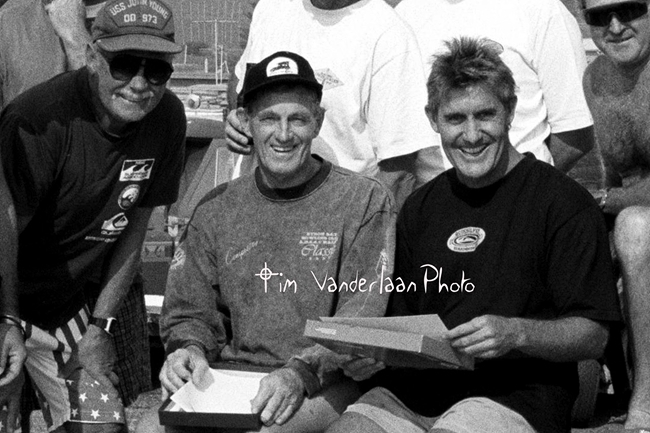 Jack Eden
Posted: October 6, 2019 at 10:33 am
September 2019. This week saw the passing of Jack Eden, pioneer surf photographer, surfer and a mentor for so many. RIP Jack. Pictured here in 1995 with his lifelong friends Peter Glasson and Midget Farrelly. Insert images: Jack surfing Wanda beach, and the very first edition of his "surfabout" magazine. Tim Vanderlaan photos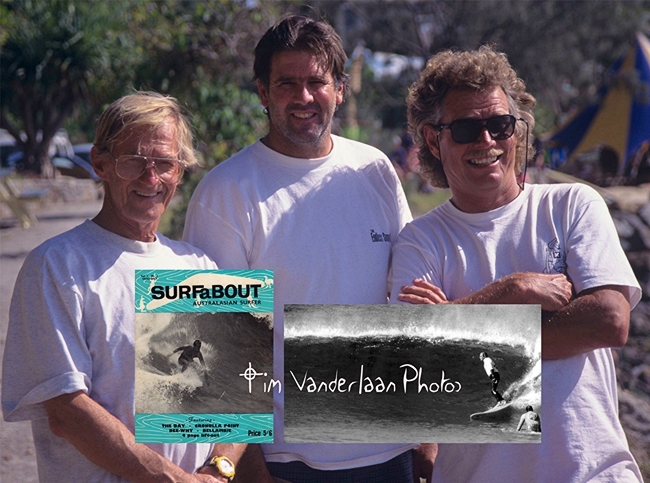 Jack Eden RIP
Posted: October 6, 2019 at 10:28 am
Back in the late 60s I had my first introduction to surf photography. In the school library was a book titled "A Pictorial History of Surfing". Inside was packed with Jack Edens classic surf shots. His images inspired me to buy my own gear and set out on my own surf photo addiction and 50 years later im still obsessed. Thanks Jack your work inspired me and countless other photographers and it was sad to hear of your passing. You've left us with a treasure chest of iconic surf images which will now last on forever. Jack you are a legend RIP.
Words Chris Stroh photo Tim Vanderlaan