Force 9 and Patto
Posted: August 1, 2013 at 3:19 pm
1996 Stuart Paterson before heading out on his own was head custom shaper at Force 9 working out of the factory at Taren Pt where it still is  manufacturing today.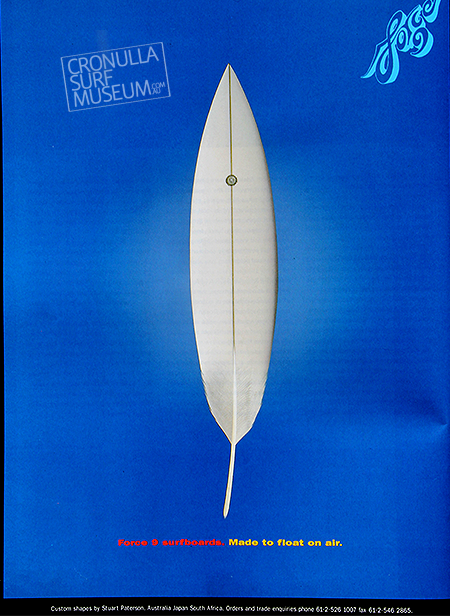 Richard Herbert
Posted: June 24, 2013 at 4:30 pm
The infectious smile and character behind it was best known to one and all as Herbie. A talented surfer and shaper who during his career worked for G&S, Goodtime, Emerald and Waterforce  . This shot captured Herbie at work at Force 9 in the early 90's.Image from Inside Sunset.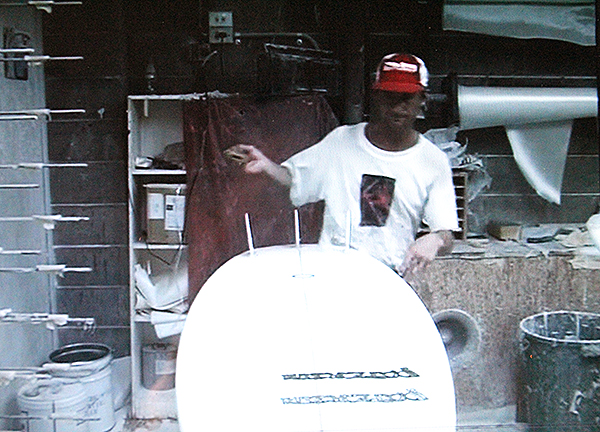 Jim Lucas Force 9
Posted: April 3, 2013 at 11:43 am
Force 9 owner Jim Lucas who has been working out of the same factory for decades with former Force 9 shaper Wayne Roach and Nat Young in the 1980's photo courtesy Force 9.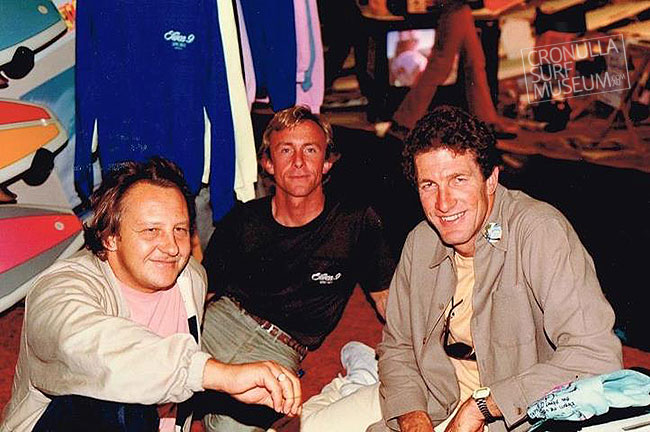 Bob Liddell -Get The Buzz
Posted: January 20, 2013 at 12:13 pm
Shaped by the late Bob Liddell ( Get The Buzz) a 5ft 9in Force 9 Thruster.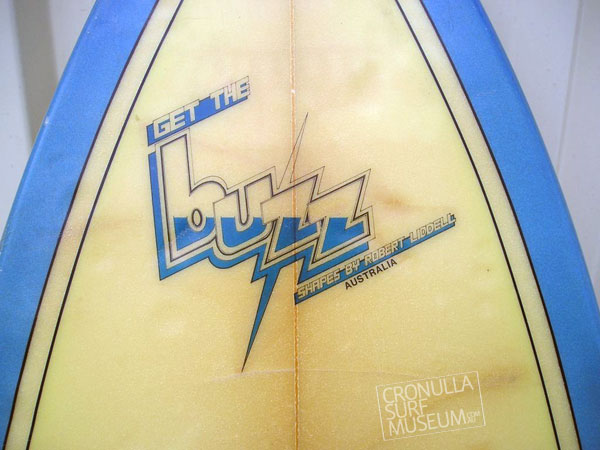 Force 9 Surfboards
Posted: November 27, 2012 at 10:32 am
 Force 9 Surfboards was owned and run by longtime Cronulla surfer/ shaper  Jim Lucas and it has remained in the same factory now for decades. This  advertisement from the 90's era  appeared in Underground Surf mag.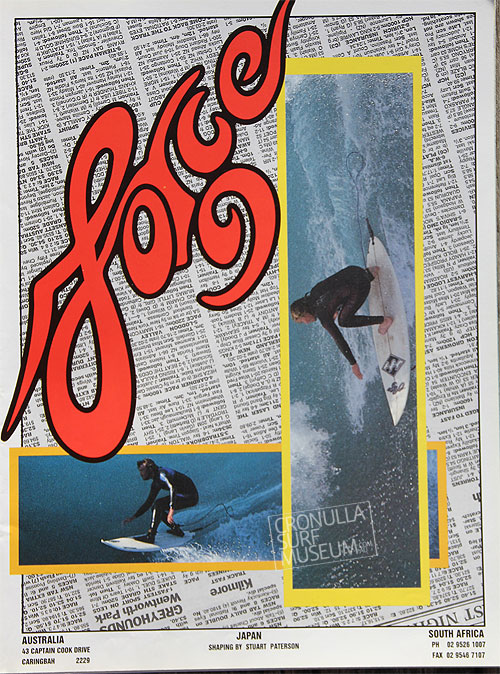 Michael Action Jackson
Posted: October 28, 2012 at 3:16 pm
Heres the custom shape logo that surfer/ shaper Michael Jackson was using at Force 9 in the 80's.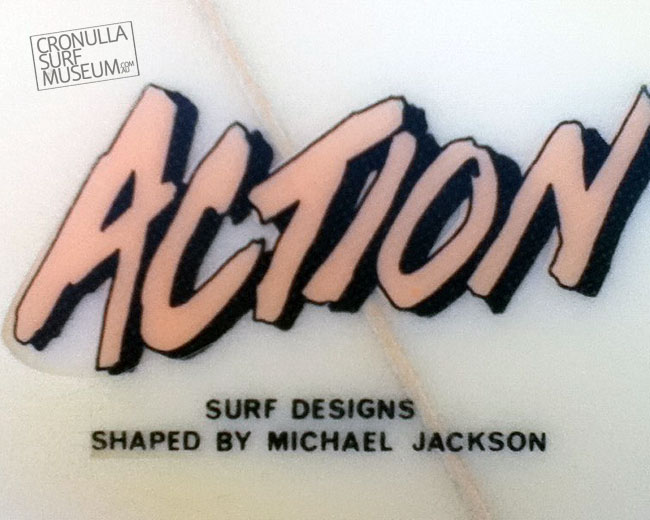 Damien Hodge
Posted: October 13, 2012 at 10:01 am
Around '90 Damien Hodge was the new kid on the block showing plenty of potential in the amateur ranks. Being taken under the wing of Dog and Jason Marsh, Hodgey was one of Cronulla Boardriders Clubs most promising stars and looked like a possible candidate to follow a similar pro career path to that of Greeny , Occy and Dog. In '95 when this pic was taken by Peter Simons, Hodgey was riding Stuart Patterson shaped Force 9 boards.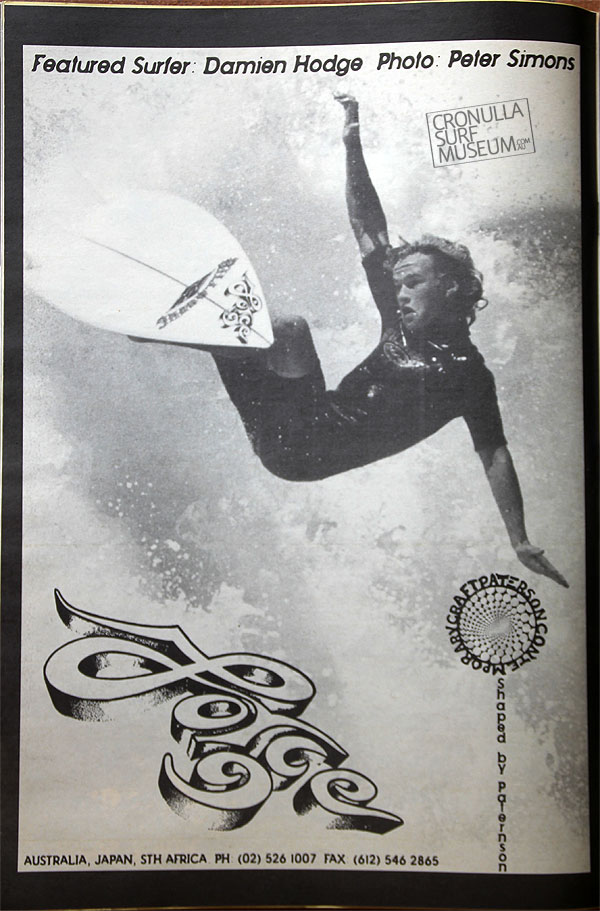 Michael Jackson Force 9
Posted: October 12, 2012 at 7:25 pm
Heres a Michael Jackson Force 9 shaped twin fin. Michael was a red hot surfer who was a member of the original Cronulla Junior Club run by Jim and Richard James. Twinny Circa 80's
Rob Bain & Force 9
Posted: September 16, 2011 at 3:52 pm
Sponsored by Force 9, Rob Bain used to pop over regularily to pick up his boards from Jimmy Lucas and often he would try them out like on this day at Redhouse. Circa 80's pic by Stroh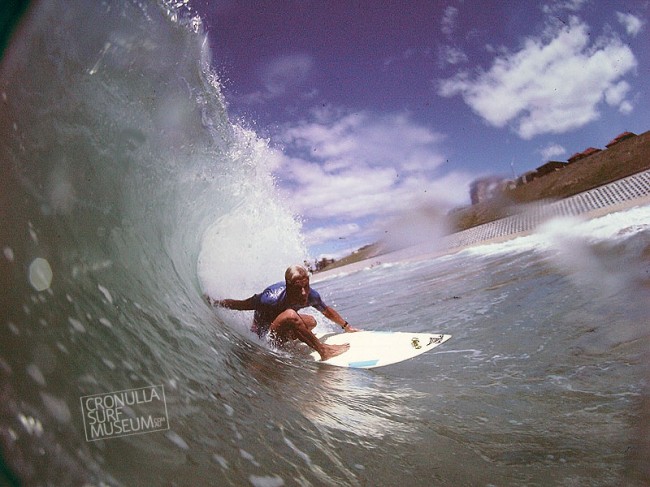 Force 9
Posted: February 17, 2011 at 7:54 pm
Early Force 9 advertisement December 81 Tracks.