Jacko Turning 80
Posted: December 16, 2015 at 10:41 am
Clipping from the Sydney's Sunday paper: Back in 1963, Brian Jackson had just returned from a surf trip to Phillip Island, Victoria with his buddies Dave Carter, John Batchelor and Tony Nichols. Below Jacko has surfed all his life and next year will turn 80. Tim Vanderlaan Collection.
The Fantastic Four
Posted: April 4, 2015 at 2:07 pm
During the Sixties 4 Cronulla surfers rose above the pack, left to right Bobby Brown, Brian  Jackson, Frank Latta and Gary Birdsall from SW.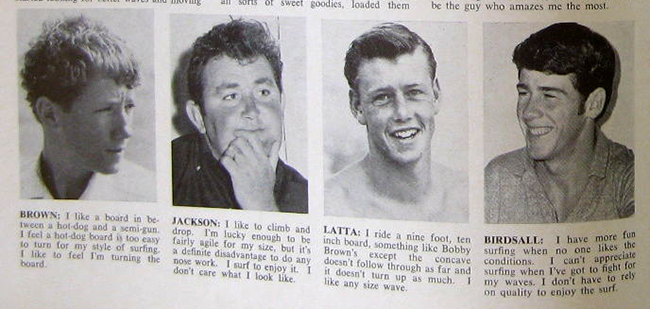 Brian "Jacko"Jackson
Posted: December 19, 2014 at 8:47 am
Original Cronulla longboard pioneer and legend Jacko ripping it up at Angourie from a centrespread in Surfabout Mag mid 60's.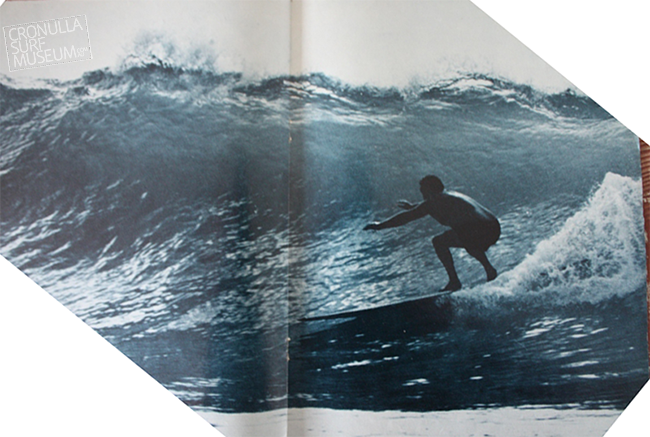 Jacko and The Boys at Crecent
Posted: November 9, 2013 at 12:02 pm
The group shot includes a Cronulla contingent visiting Jacko's second home at Crescent in May 1995 from left to right, Miles (boy) Glassson, Peter Glasson, Ken Glasson,  Brett Lee Long, Jungle,  Dane Wilson, Larry Beaver,  Jack Eden,  Brian Jackson,  Dave Wilson(crouching) , Rod Menzies, Dave Mattison and Tim Vanderlaan.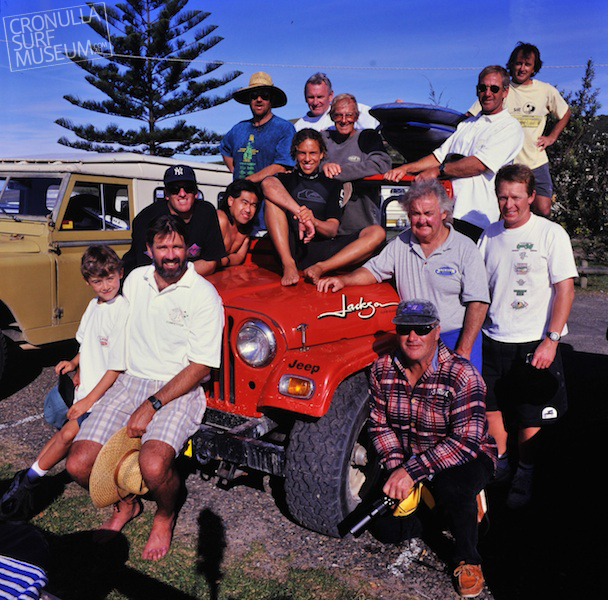 Jacko '97
Posted: October 12, 2013 at 11:57 am
Brian Jackson surfing on his 10ft kneeboard at Crescent Head in 1997 photo Tim Vanderlaan.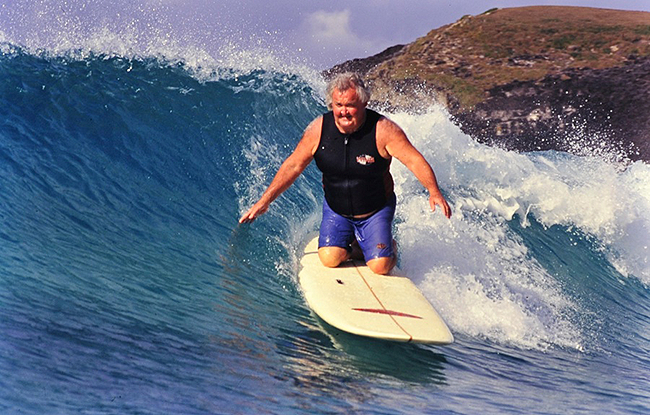 Jacko
Posted: September 25, 2013 at 1:25 pm
Brian Jackson one of the pioneers of Aussie surfboard manufacturing getting his hands dirty in the early 60's photo Bob Weeks.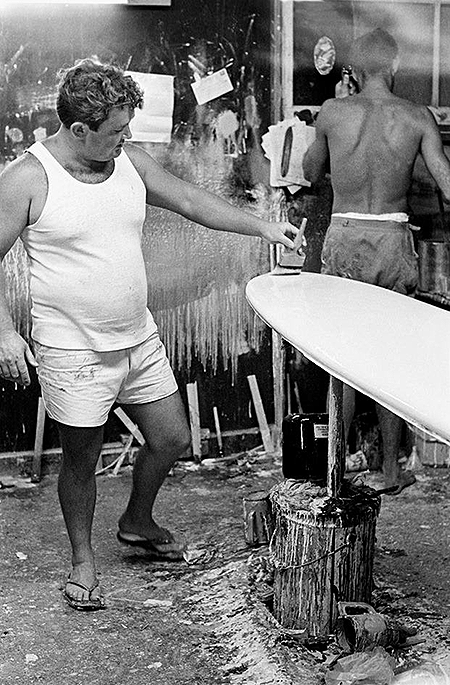 Allan Doorman and Jacko '63
Posted: August 31, 2013 at 7:16 pm
Doormouse and Jacko share one at The Point in 1963 photo Bob Weeks.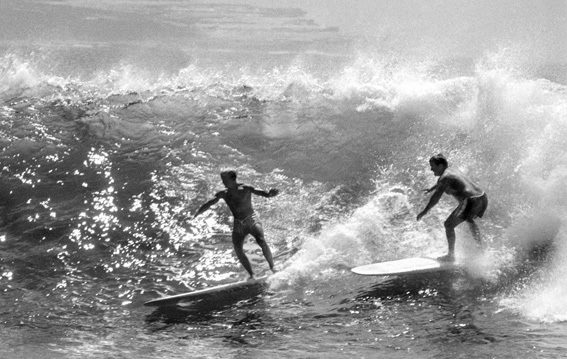 Dane and Jacko
Posted: August 15, 2013 at 12:00 pm
Dane Wilson is well respected in surfing circles for his ability on the longboard. Here Dane and Brian Jackson of Jackson Surfboards 2 Cronulla legends  pose for a shot together at Crescent in recent times.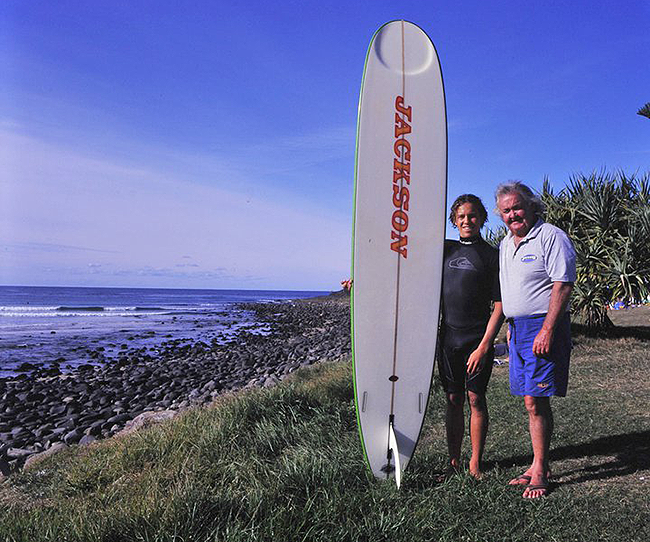 Parko and Jacko
Posted: July 10, 2013 at 2:03 pm
Jackson Surfboards have been around since '57 and continue to workout of the same factory at Taren Point where it has been located since moving out of Jackos backyard.. Below Jim Parkinson the current owner and former owner and good friend Brian Jackson.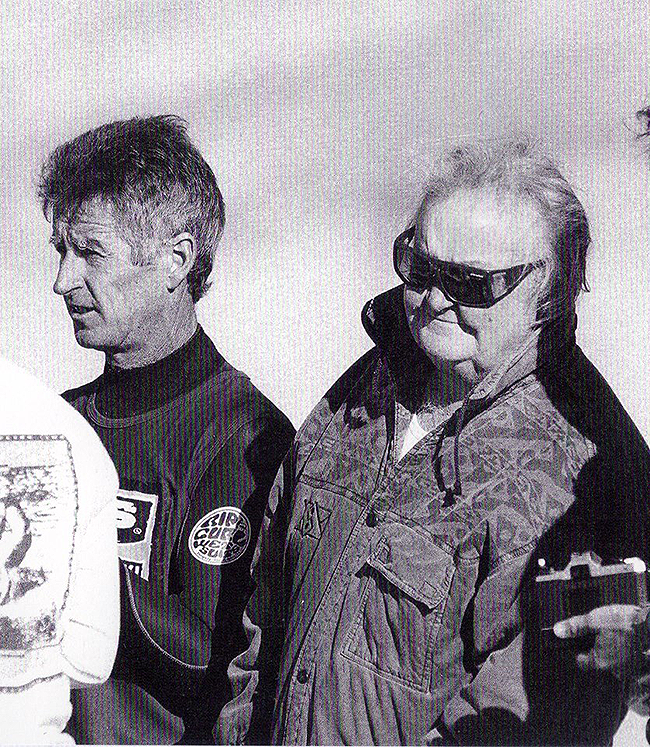 Jacko
Posted: May 24, 2013 at 5:23 pm
Brian "Jacko" Jackson 1969…Jacko began making boards in his backyard in 1957, photo courtesy of Jackson Surfboards.