1963 Surfabout Vol 1 No 5
Posted: June 9, 2013 at 12:51 pm
Jack Edens magazine Surfabout had regular features on Cronulla this issue was no different with  a 3 page article and a front cover on the Soutshide crew featuring Terry Steen, Gary Birsall, Ian Nolan, Jacko and Dave "Cancer"Coppelson from a session at The Point. Bob Weeks paddled out on a board and took the shots from the channel with his Pentax camera and no housing.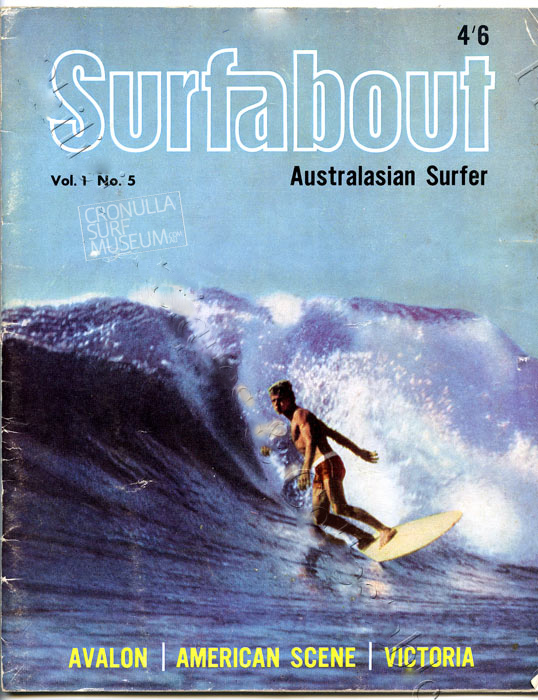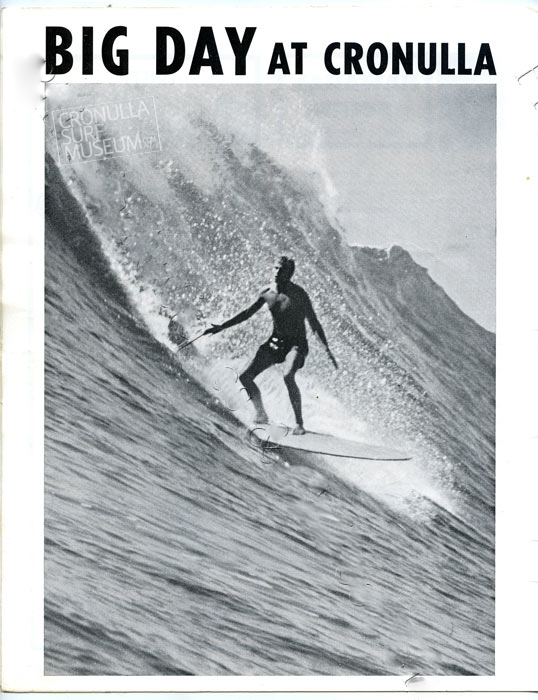 Legends of Surfing
Posted: March 26, 2013 at 1:33 pm
Found this recent shot on the internet of Cronulla legends from the 60's Nigel Dwyer, Lance Fisher, Brian Jackson, Bob Weeks and Gary Birdsall .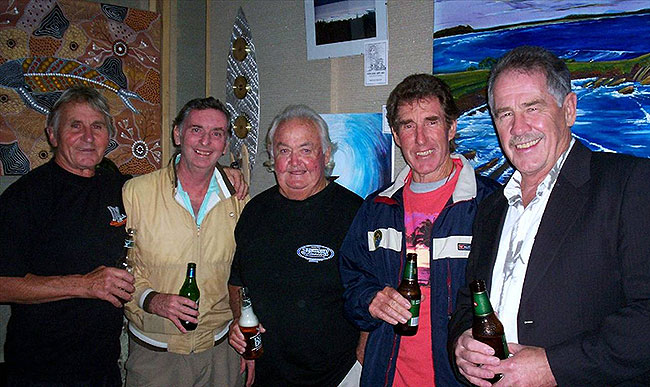 John Rhodes '62
Posted: March 26, 2013 at 1:26 pm
This pic of Cronulla styler /wild man and surfboard manufacturer John Rhodes was taken in '62 by Bob Weeks. Photo courtesy of Switchfoot.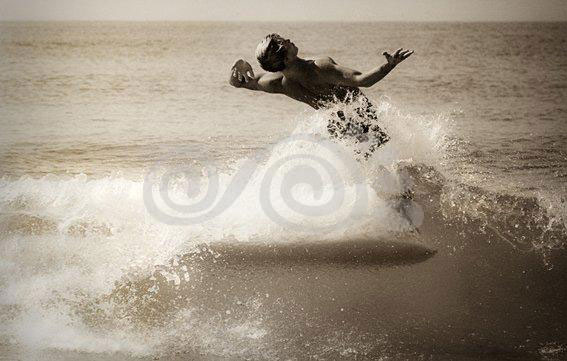 Frank Latta '63
Posted: March 10, 2013 at 8:46 pm
Classic Frank…style master photo taken by Bob Weeks in '63.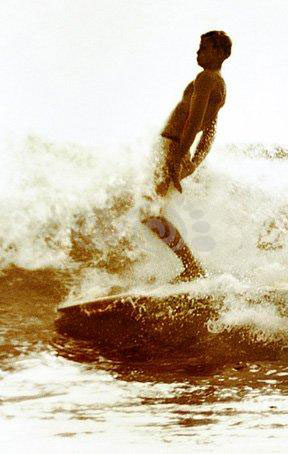 South Cronulla Beach Milkbar
Posted: January 20, 2013 at 11:58 am
In the early 60's the milkbar next to the main pedestrian crossing at South Cronulla Beach was the hang for surfers,  it was known for its tasty milk shakes. Mark Bluey Aprilovic took it over in the 80's but after a short time turned it into the Cronulla Surf Design shop where it stayed for several years before relocating it up to the main street. This shot of the original shop was taken by Bob Weeks.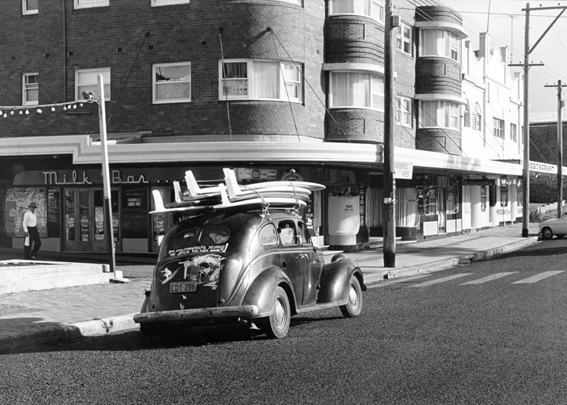 Greenhills
Posted: January 13, 2013 at 7:15 am
The sand dunes behind Wanda beach were tall and magnificent in the early 60's. They are only a shadow now of what they used to be. Bob Weeks was there to capture the Greenhills carpark scene where you parked your wheels to climb over the dunes dragging your heavy log behind you for a long strenuous hike there and back.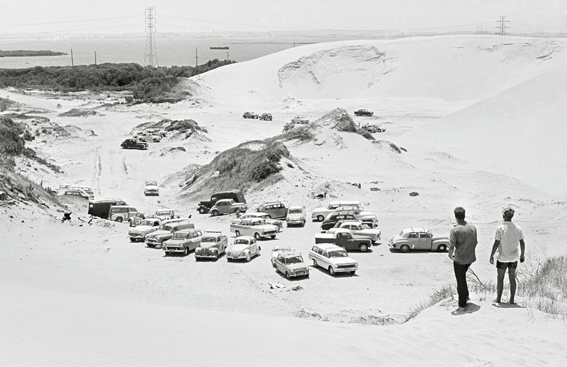 Midway Shack
Posted: December 30, 2012 at 3:35 pm
Bob Weeks photos captured the lifestyle as well as the action in the 60's. This is Midway with a surfers shack roughly built on the beach.Many of Bobs classic pics are available on the internet to buy.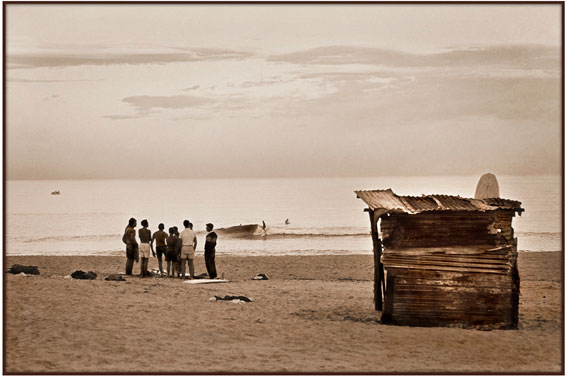 Gary Birdsall The Point '61
Posted: July 9, 2012 at 6:05 pm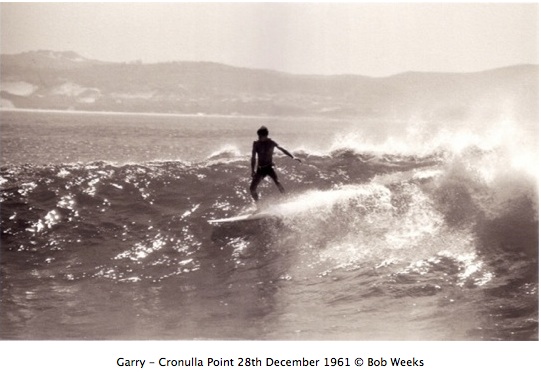 Cronulla Crew '64
Posted: April 28, 2012 at 12:34 pm
The Cronulla crew 1960. From Back – John Coleman, Gitto, Nicko, Nigel Dwyer & Stud in front. Ulladulla trip  image from the lens of photographer legend Bob Weeks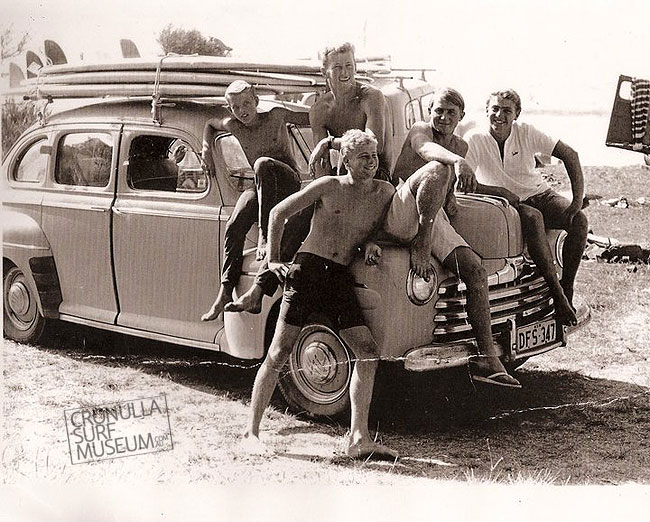 Unknown The Point 1961
Posted: March 16, 2012 at 7:54 pm
Ledgend  surf photographer Bob Weeks captured many of the  classic surf images of the 60's  era. This is one of the earliest images of Cronulla Point being tamed in 1961.