Fred Farmer
Posted: November 24, 2021 at 5:49 pm
Another popular local performer in the sixties, Fred Farmer had the honor of appearing in the Australian History of Surfing Book in 1970 in this photo by Jack Eden.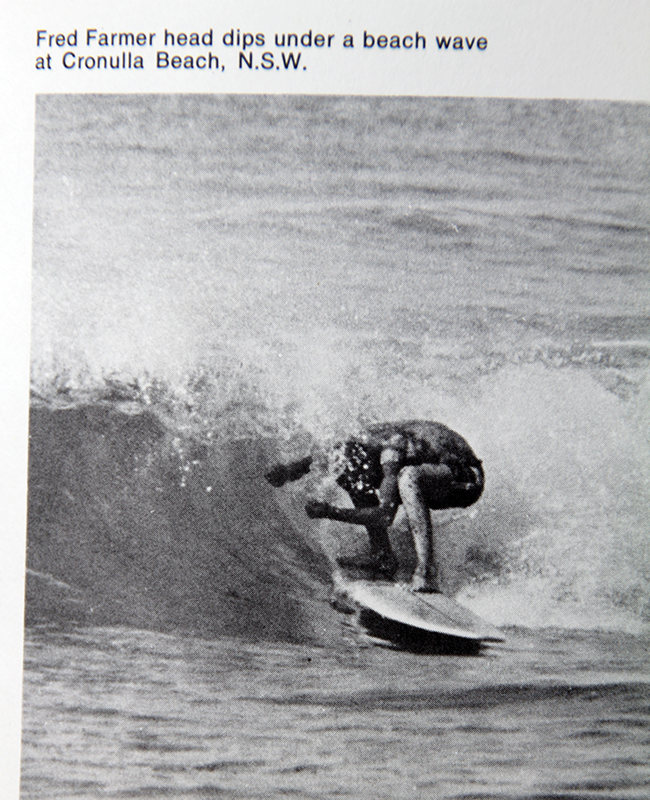 Oak Park photo by Jack Eden Circa 60s
Posted: August 8, 2021 at 12:17 pm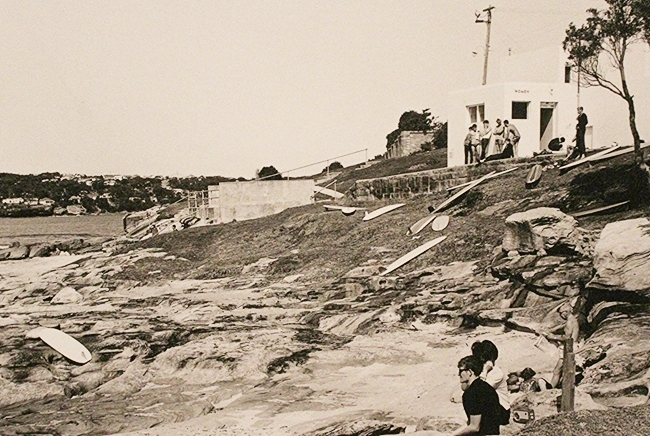 Jack Eden Photos 1963
Posted: March 30, 2021 at 6:03 pm
Jack Eden photos 1963 riders include Gary Birdsall, Billy Dews, Dave Coppleson, Alan Dorman, Ian Nolan and Ray Greenaway
Jack Eden 1990s
Posted: June 18, 2020 at 4:28 am
1990's. Still missing Jack. RIP. Tim Vanderlaan Photo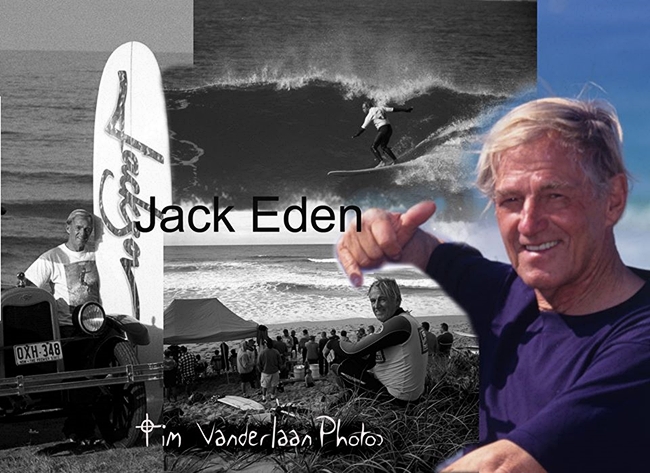 Jack Edens Board
Posted: June 18, 2020 at 4:25 am
Jack Edens board presented to him on his 70th birthday now in Crescent Head on Ray Gardeners wall.

Jack Eden '94
Posted: October 6, 2019 at 10:37 am
1994 Jack Eden and friends. Crescent Head. Tim Vanderlaan Photo.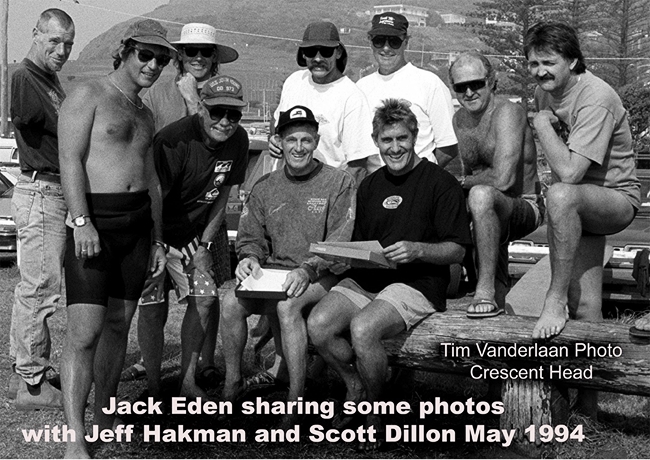 Jack Eden
Posted: October 6, 2019 at 10:35 am
1994 Crescent Head. Jack Eden knew everyone, and is seen here showing his surf photos to old mates Scott Dillon (RIP) and Jeff Hakman. Tim Vanderlaan Photo.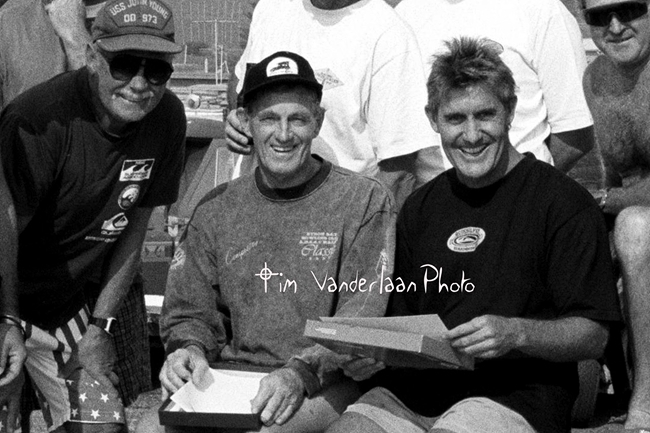 Jack Eden
Posted: October 6, 2019 at 10:33 am
September 2019. This week saw the passing of Jack Eden, pioneer surf photographer, surfer and a mentor for so many. RIP Jack. Pictured here in 1995 with his lifelong friends Peter Glasson and Midget Farrelly. Insert images: Jack surfing Wanda beach, and the very first edition of his "surfabout" magazine. Tim Vanderlaan photos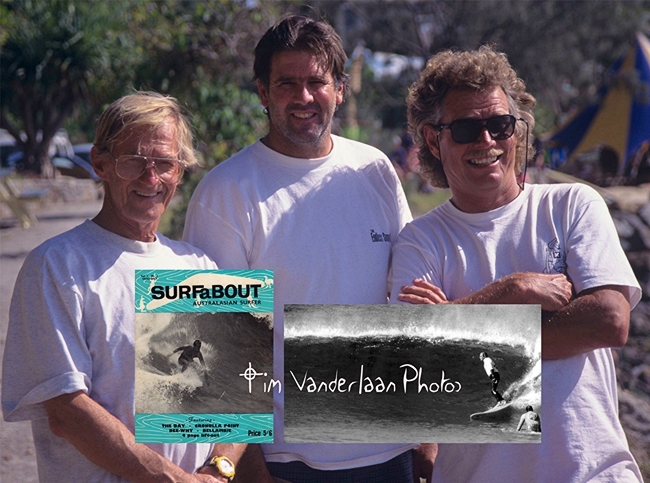 Jack Eden RIP
Posted: October 6, 2019 at 10:28 am
Back in the late 60s I had my first introduction to surf photography. In the school library was a book titled "A Pictorial History of Surfing". Inside was packed with Jack Edens classic surf shots. His images inspired me to buy my own gear and set out on my own surf photo addiction and 50 years later im still obsessed. Thanks Jack your work inspired me and countless other photographers and it was sad to hear of your passing. You've left us with a treasure chest of iconic surf images which will now last on forever. Jack you are a legend RIP.
Words Chris Stroh photo Tim Vanderlaan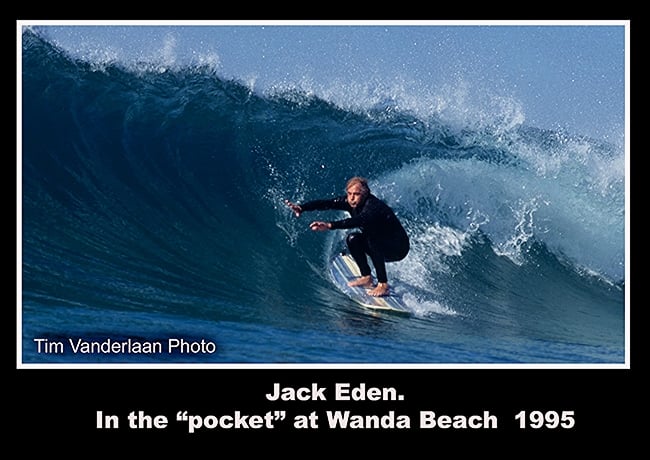 Mark and Jack
Posted: January 28, 2019 at 11:23 am
Mark was out surfing one day in 1993 as a big swell came in from the South. It had been raining for days and on that afternoon the sun came out.
Mark didn't know it at the time but Jack Eden took a walk to the point that afternoon, one of the only times he used his camera since retiring.
A couple of months later one of Mark's friends, Doug Robson was walking along the Mall – Jack had a display of some of his photos and Doug noticed from the corner of his eye, this photo of his friend Mark, or MR as his Cronulla Point Board Rider friends call him. The photo had been labelled 'Mark Richardson'. Doug alerted Jack to the incorrect name, in that it is Mark Rogers to which Jack changed the name. Doug rang Mark to tell him the photo was there, hence to say, Mark raced down and bought it.
So there you have it, a Jack Eden, signed photograph, of my husband Mark 😊 from Anna