Jack Eden
Posted: August 4, 2018 at 8:43 am
1995.  Legendary 60's surf photographer Jack Eden captured here in a rare surf image where he himself is the subject.  Tim Vanderlaan Photo.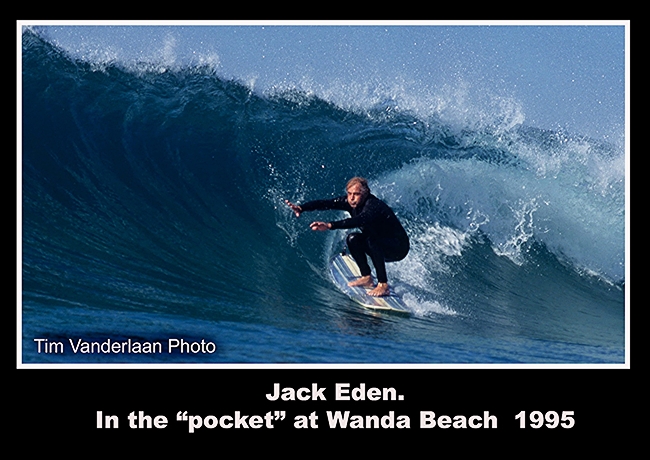 Jack Eden
Posted: March 2, 2017 at 4:45 pm
Jack Eden. Throughout the 60's Jack Eden supplied many of the photographs used in books and magazines around the globe. He took this watershot of Jacko at Shoes which appeared in this colorful little surf book, "How to Ride a Surfboard". Main picture: Jack was still shooting video in the late nineties captured here at "First Point" Noosa in March 1996 in this Tim Vanderlaan Photo.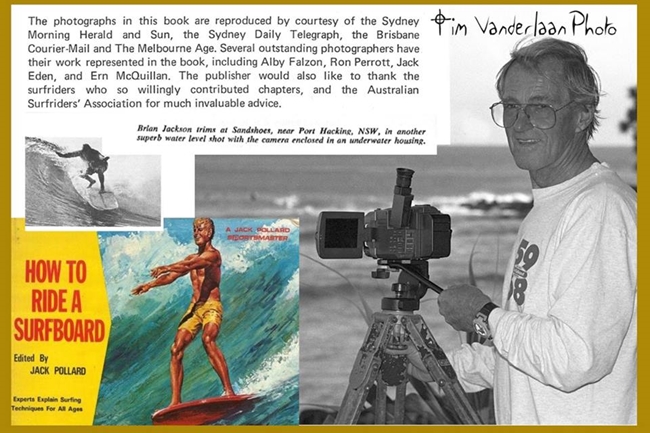 Midget and Jack Eden
Posted: December 2, 2016 at 12:17 am
Midget Farrelly and Jack Eden. . Midget (RIP) and Jack were great mates, and seen here hamming it up for the camera, in March 1996. The insert shot is of Midget in the finals of the 1964 World Titles in Manly, a classic shot taken by Jack Eden. Jack allowed his images to be used as trophies in surfing contests, and were a unique prize for competitors. Tim Vanderlaan Photo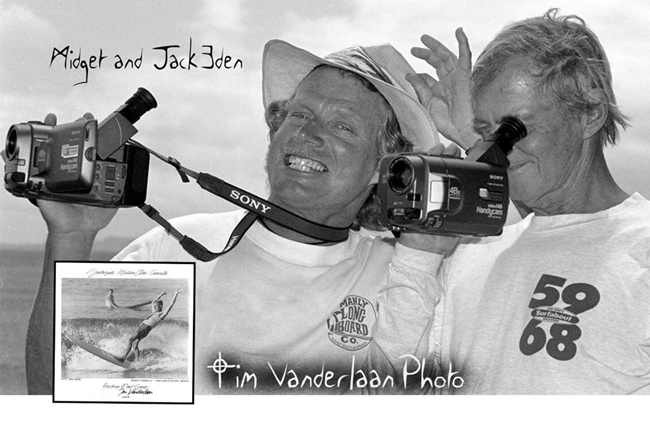 The Wall
Posted: March 14, 2016 at 7:33 pm
Left to right….Peter Bremmer Kamp, Fred Farmer, Gary Birdsdall and Steve Mangon photo Jack Eden early 60s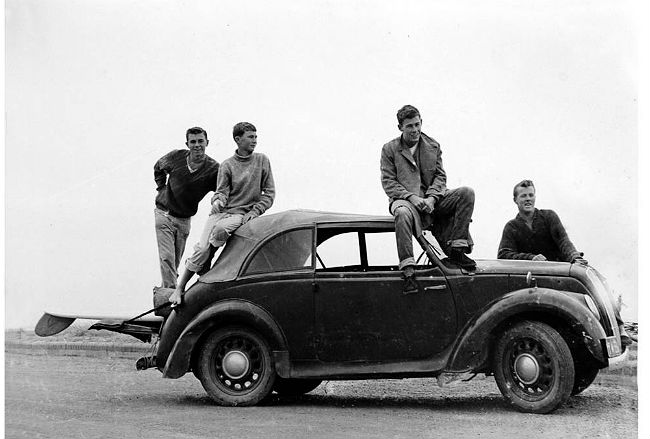 The Wall
Posted: November 9, 2015 at 2:35 am
Classic image of the 60's by Jack Eden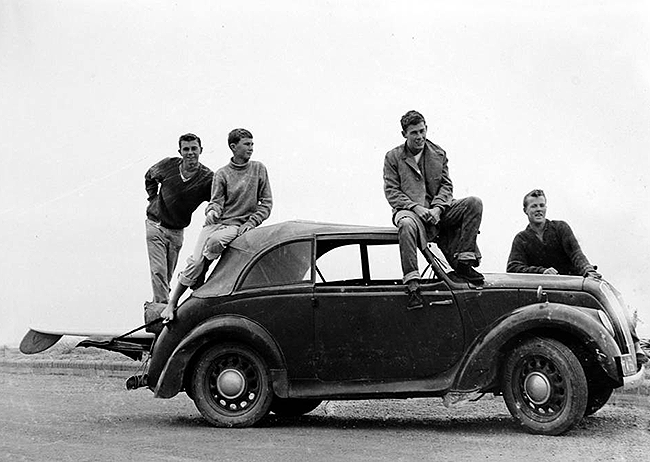 Jack Eden
Posted: May 10, 2015 at 1:13 pm
The legendary Jack Eden whose timeless photos captured the lifestyle and surfers of the Sixties.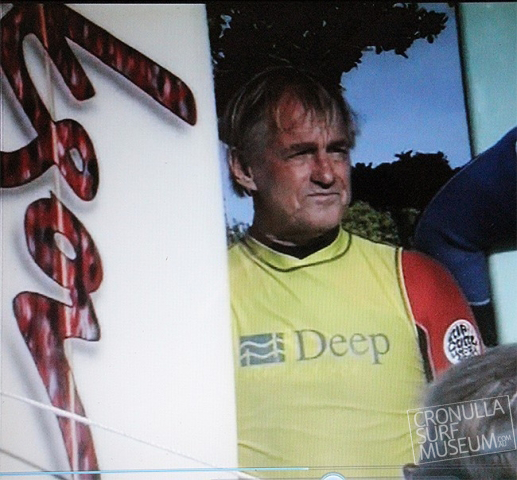 Bobby Brown Tribute
Posted: April 20, 2013 at 12:12 pm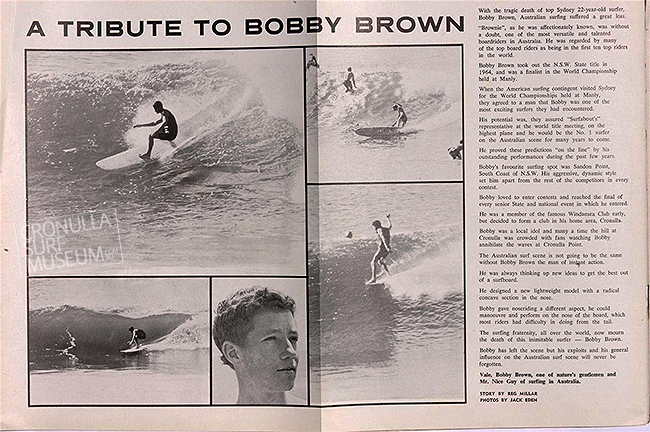 Words Reg Millar photos Jack Eden
Bobby Brown Quasimodo
Posted: January 1, 2013 at 12:45 pm
This shot of Bobby taken at North Cronulla in '62 by Jack Eden is one of the most iconic Aussie surf pictures of all time. It captures the sixties  in an era known for pulling silly stunts and having a good time. Today this might look ridiculous to the groms but it shows that surfers wernt taking themselves to serious back then and were having a lot more fun. Photos like this by Jack Eden are available to buy online.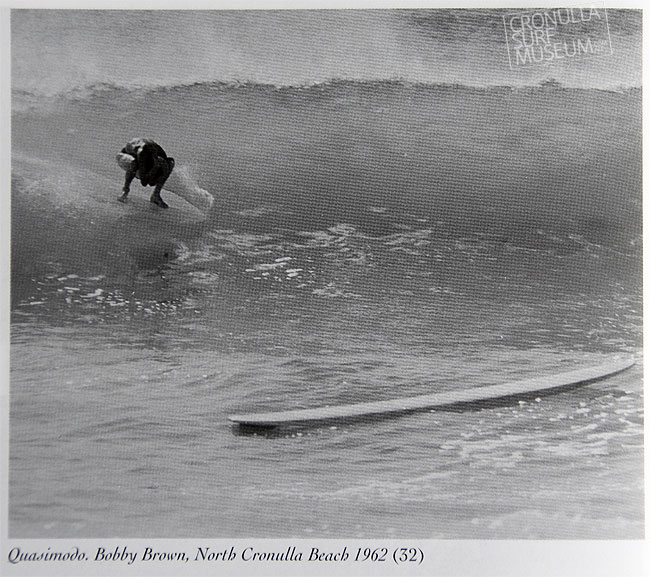 Jack Eden
Posted: October 19, 2012 at 10:29 am
Jack Eden started taking surfing photos in the late 50's and published 24 issues of Surfabout magazine in the mid sixties, which gave the Southside its first coverage. The first photos of Cronulla Point, Voodoo and Sandshoes opened up the possibilities that the Southside had to offer. Riders like Bobby Brown, Frank Latta and Qld transplant Keith Paull before returning north where  regularily featured. Many of his images captured the sport in what Jack refers to as the golden era of surfboard riding. It was all experimental as there was no guidlines and the surfers back then were making it up as they went. Jack below shows off some of his work  which is like a time capsule and is regularily featured in museums.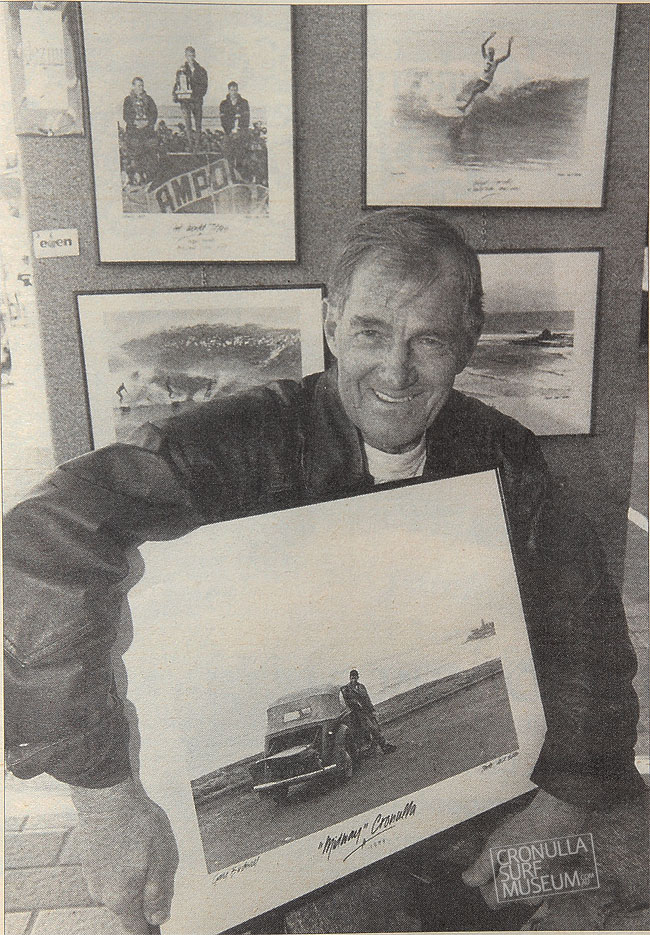 Jack Eden.
Posted: August 31, 2012 at 12:37 pm
Another classic Cronulla Point shot from the Jack Eden portfolio appeared in a story in Surfabout Vol 2 No 10 in 1965. At the time Jack was one of the very few photographers who were shooting water angles. Water housings were pretty rare so often photographers would paddle out with their camera in a plastic bag and sit on the shoulder on top of their longboards risking their equipment. Jack was a pioneer in this area and he captured many iconic surf images of that era.  He also gave Southside surfers some well earned coverage.