Vintage Album 50's.
Posted: May 27, 2011 at 5:29 pm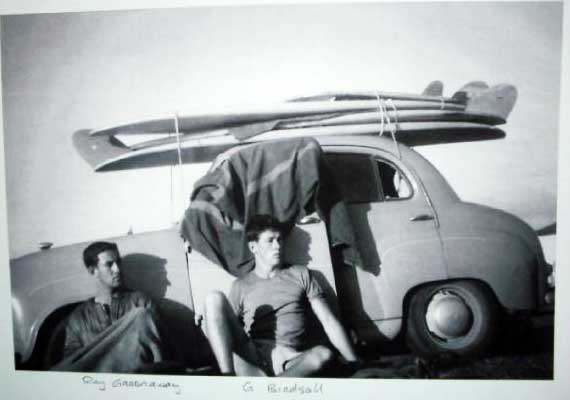 Check out this Vintage collection of surf pics from the 50's to around '63 courtesy of Ray Greenaway. The pics are mostly by Jack Eden and Bob Weeks.They capture some of the first images of Cronulla surfers. Also make sure you check out some of the knicknames from back in the day. The shot above features Ray Greenaway and Gary Birdsall and their classic surf cruiser.Click below
http://www.facebook.com/media/set/?set=a.102889993070861.6913.100000495828635&l=255462cac3
Gary Birdsall
Posted: May 14, 2011 at 2:54 pm
Around 1962 Gary Birdsall was one of Cronulla's first and finest surfers and photographer Bob Weekes snapped a shot of Gary charging on a sizeable day at  Cronulla Point. The image ended up on the cover of the 60's surf band The Atlantics record album called Bombora. Below is the shot and cover now a collectors item signed by Birdsall.