Gary Birsall and Ray Wheeler '65
Posted: October 10, 2014 at 10:30 am
Gary Birdsall trims backside while Ray Wheeler grabs the rail at The Point '65 photos Harris.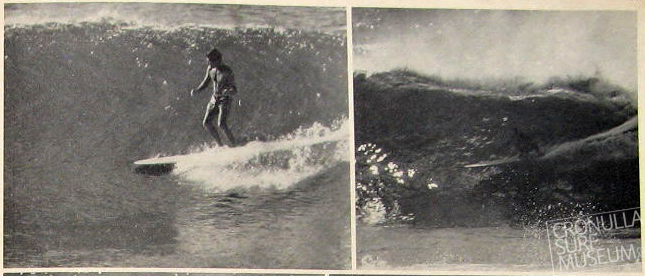 Gary Birdsall
Posted: May 22, 2014 at 5:53 pm
Cronulla 60's surfing legend Gary Birdsall showing his early style. Photo courtesy Steve Core.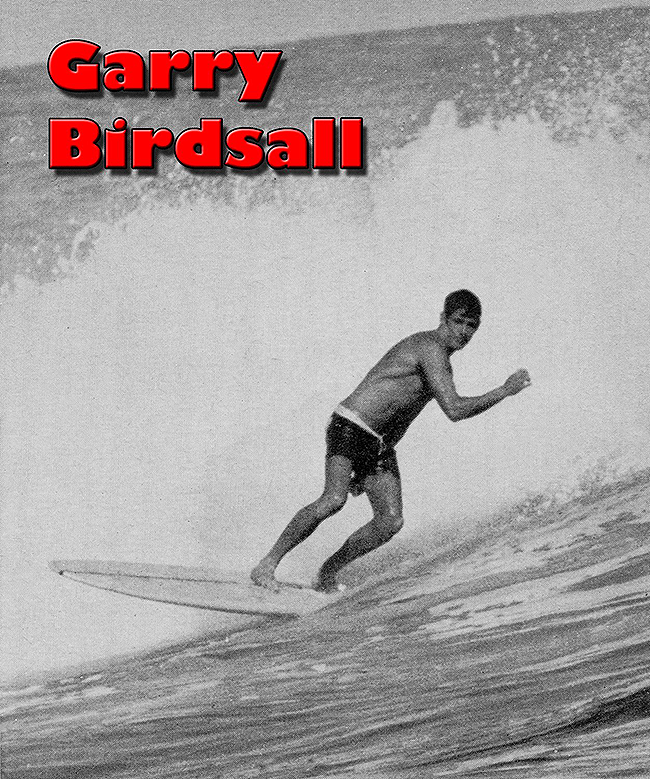 Gary Birdsall Art
Posted: April 24, 2014 at 8:13 pm
Cronulla Point surfing pioneer Gary Birdsall is also a well respected artist, below one of Birdshits work, The Point.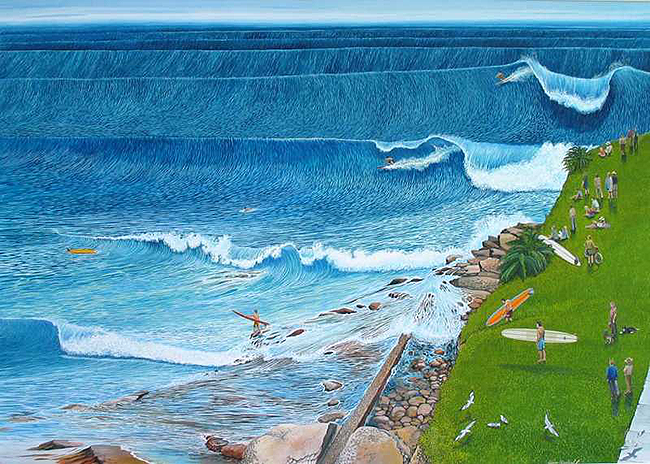 Gary Birdsall Logo
Posted: November 17, 2013 at 6:11 am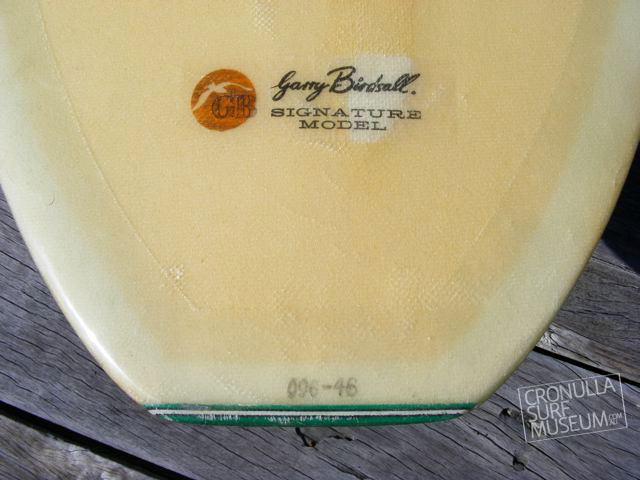 Legends of Surfing
Posted: March 26, 2013 at 1:33 pm
Found this recent shot on the internet of Cronulla legends from the 60's Nigel Dwyer, Lance Fisher, Brian Jackson, Bob Weeks and Gary Birdsall .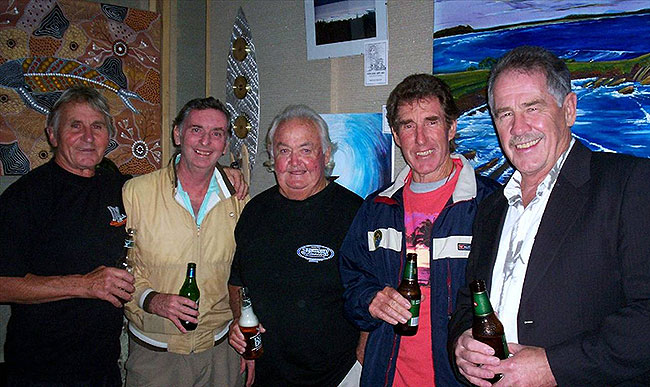 Gary Birdsall The Point '61
Posted: July 9, 2012 at 6:05 pm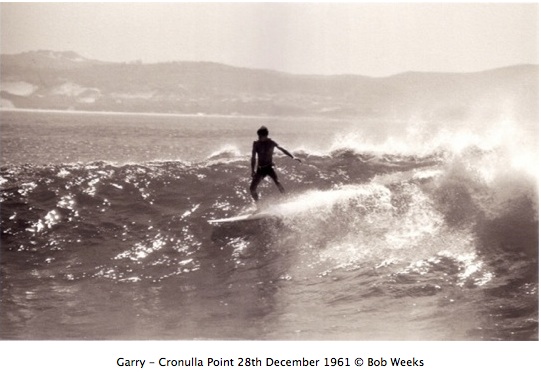 Norm Casey Surfboards
Posted: April 8, 2012 at 7:21 pm
One of the original surfboard manufacturers on the south-side. Located at Rockdale in 1960 the factory eventually moved to Taren Point where Gary Birdsall was part of the team. Peter Clarke eventually took over the factory in the mid 60's and changed the name. Below a 1960 9ft 2 inch Norm Casey double wooden stringer and the board decal from around that time.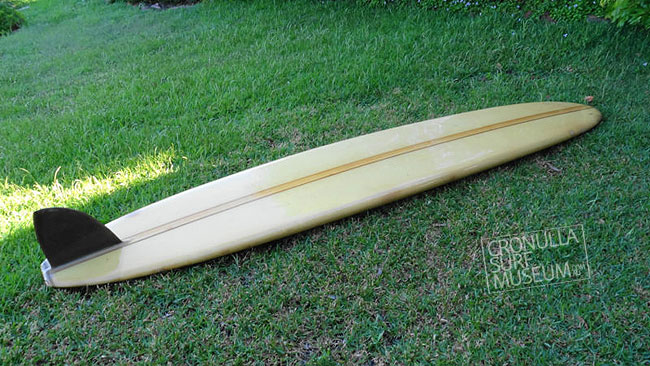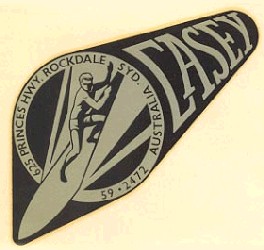 Classic Surf Tales.
Posted: August 1, 2011 at 3:59 pm
Here's a few more classic memories from back in the early days in Cronulla……..I have had a couple of memorable journeys in Gary Birsalls alias Birdshits first car , a Morris *8/40. One trip we went down Bulli pass to go surfing. but his gutless car would not take all of us back.S o Hitcho and I  hitched a ride to the top and waited for him. another time we were going from Cronulla to Garie Beach, thru the Nat Park, on a hot summer day. His car had an electric fuel pump, and it kept heating up,and burning the fuel before it got to the carbie. The car would stop, and we had to piss on the pump to get going again…By Dags
The there was the time I was standing in front of the pie shop when suddenly Yance jumped out of his bedroom window (he used to live in the main street above the jewellry shop)  followed by detective Humpherys running across the shop awnings then he jumped down onto the footpath and up the side lane.  they wanted him for the old charge of carnal knowledge,  he beat it when 6 other blokes spoke up as well (lovely girl was Betty);   Or when Barry Rossier held the unofficial time record for driving from Cronulla to Garie in Terry Stein's old TE MG rag top; Wally Carle, Mr Wally Poly from Grays Point  loved putting VW  keys and insects in the middle of his fins (legend);  Barry Dack, had the first foam Scott Dillon board with a 'nose fin', it was white with a red half moon shape on the deck; Terry Mcintosh with a new ferris foam board, it was green, it started to bubble on the deck with the heat so he took to it with the neck of a broken beer bottle, slipped and nearly cut his arm off; Bob Davey with the first 'bear suit', they were discarded flying suit inners;   Fred Farmer, the first guy i ever heard about eating an apple while having sex (please confirm fred)  at Macs unit in Burke road. Yance being chased across the stage of Cronulla picture show while the movie was playing,   he was caught using a hand held air raid siren.  John Rhodes was the first guy in Cronulla convicted of using dope, his comment in the "Observer" was, "soon everyone will be using this", the magistrate laughed at him (legend , again) …..by The Fox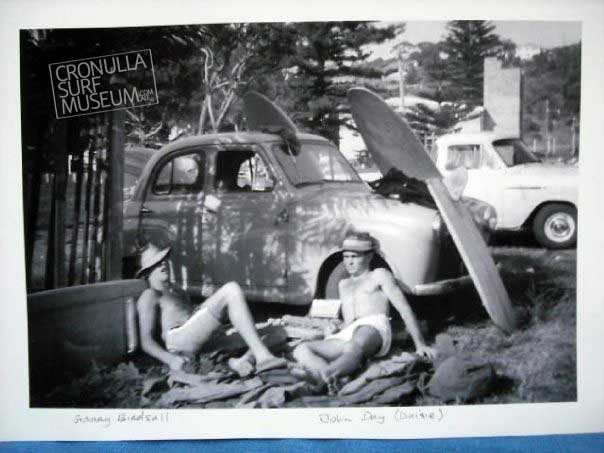 Gary Birdsall and John Day
Gary Birdsall Nth Cronulla '58
Posted: July 28, 2011 at 1:10 pm
This classic photo of Gary Birdsall was taken by Jack Eden and is part of a Exhibition coming in Sept 2011…….Surf City will track Sydney's dynamic surf scene through the 50s, 60s and 70s: spanning an amazing period of social upheaval, post war optimism, teen angst, rock and roll, prosperity, drugs and shifting cultural frontiers. We'll feature Sydney's surfing hubs, hot spots and cultures along with the movers and shapers who stirred the pot during these vivid and volatile years. We'll also show what surf-crazed Sydneysiders wore, watched, made, rode, heard and read and even reveal how surfing changed Sydney. The exhibition will contain boards, movies, photos, magazines, music, clothes, everyday surf wares and treasures. So watch out for the show, coming to the Museum of Sydney in September 2011.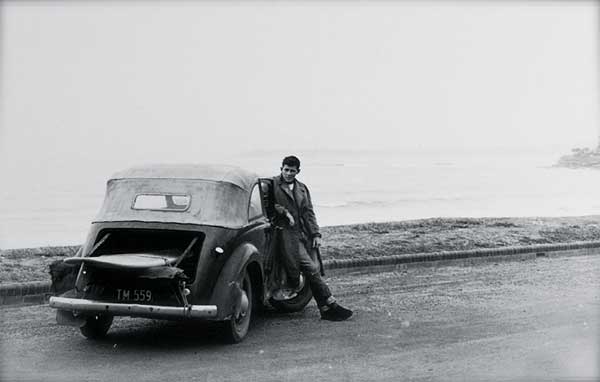 Gary Birdsall
Posted: July 18, 2011 at 7:50 pm
Gary "Birdshit" Birdsall today is an accomoplished artist known for his surf inspired artworks. Back in the early sixties he was one of Cronulla's first stars taking on the Point whenever it was firing. This image of Birdshit was  courtesy of Dags.