Norm Casey and Steve Core
Posted: January 13, 2013 at 7:08 am
Steve Core remembers his early days….."Kogarah High School. Established 1920. I graduated from there in 1964 – so almost 50 years ago. Brings back some interesting old memories of my early St.George roots in the '60s when I was in my early teens. This is where I was first introduced to surfing by school mates when we were inspired by the original 'surf boom' of the eary sixties and 'Beach Boys' music. We used to catch the train from Kogarah to Cronulla to go surfing in the early '60s and leave our boards at the Cronulla Stor-A-Board for .40¢ a week. I had my first job after school in 1963 working at the Norm Casey Surf Shop on the Princes Highway in Rockdale – about 2Ks away". Below Norm Caseys Rockdale store logo.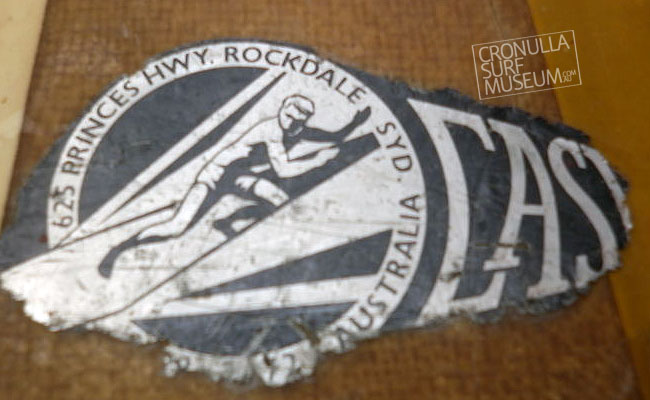 Keith Paull '68
Posted: November 6, 2012 at 10:49 am
 Steve Core  did this trippy psychadelic paint job for Keith Paull in the late 60s when both of them were working for Peter Clarke. Around the same time Paull beat Nat Young and Midget Farrelly in the 1968 National titles, held at Long Reef. Photo by Jeff Carter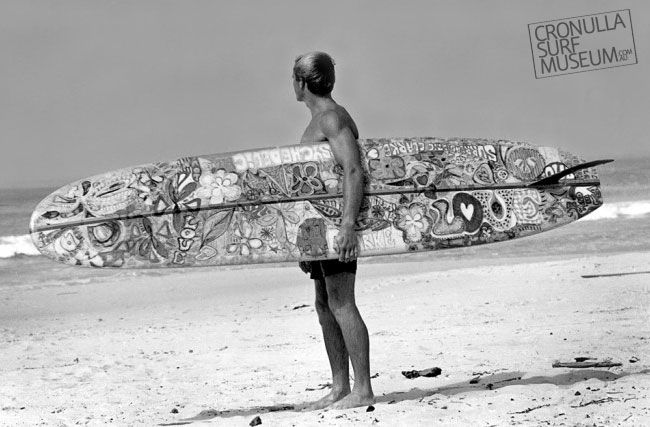 Gary Hughes
Posted: October 12, 2012 at 7:52 pm
Classic pic from The Point of Gary Hughes taking the drop around 1976 photo by Steve Core.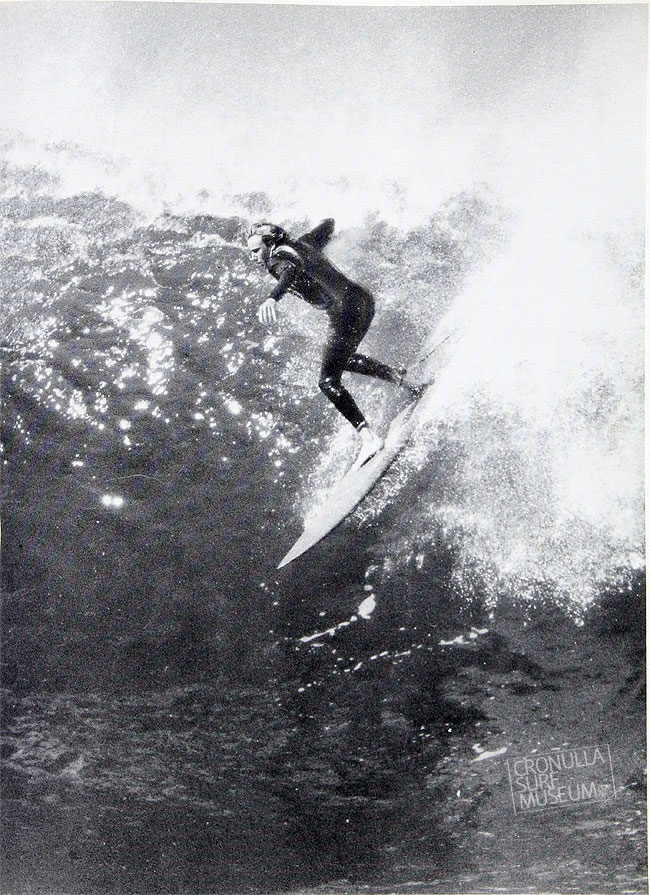 Frank Latta '69.
Posted: June 23, 2012 at 5:15 pm
This advertisement appeared in Surfing World in  '69 featuring Frank Latta who was head shaper and sponsored surfer for the fresh new brand called Steve Core Surfboards. Both Steve and Frank had worked together at other local Board manufactures when they branched out on their own in a factory at Taren Point. The venture  lasted about 1 year.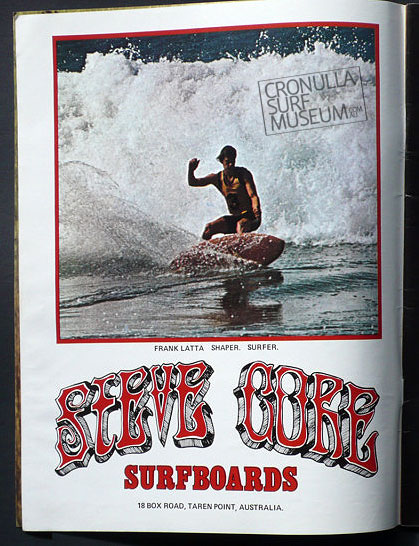 Steve Core – A Natural Flow
Posted: June 13, 2012 at 2:39 pm
Growing up Steve's dad ran Bondi movie theatre so  its not surprising Corey gained a interest in filmmaking. A Natural Flow was his first attempt at making a surf movie around '71. It was the first of two 16mm films shot during this period. Steve's films featured some of the first images of Cronulla waves.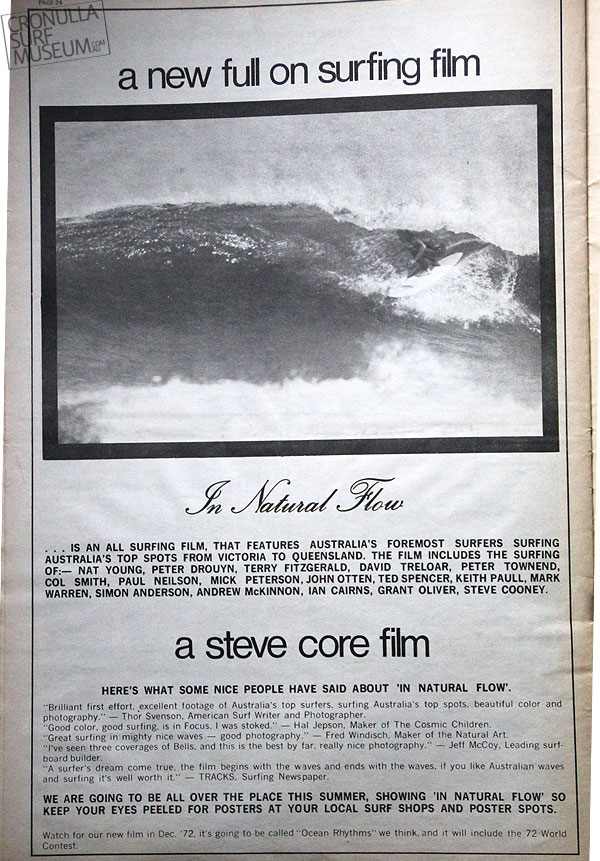 PT, Steve Core and G&S
Posted: April 17, 2012 at 7:33 pm
Local photographer Steve Core was responsible for getting the Cronulla area some hard earned publicity , first through his photos, magazine and videos. One of Steve's most successful collaborations was with 1976 World Champion Peter Townend who happened to move into Cronulla to be nearer to his sponsor G&S around the same time. Steve snapped the pics below of PT for the G&S advertisement around '77.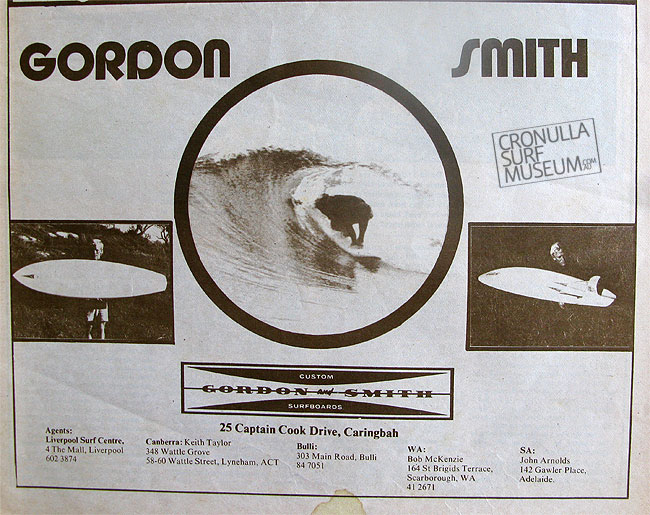 Steve Core Surf Shop
Posted: March 2, 2012 at 8:41 am
Steve Core turned a former doctors surgery into a thriving empire in the 80's opposite Munro Park near Cronulla station before relocating to where Pure Sea now stands in the main street today.

Steve Core Surfboards
Posted: February 21, 2012 at 4:13 am
Steve Core has been in involed in many aspects of surfing including  Surf mags, photography,retail shop and movie producer. Around 1969 to 1970 Steve also dabbled with his own surfboard brand with Frank Latta as head shaper and team rider at Taren Point.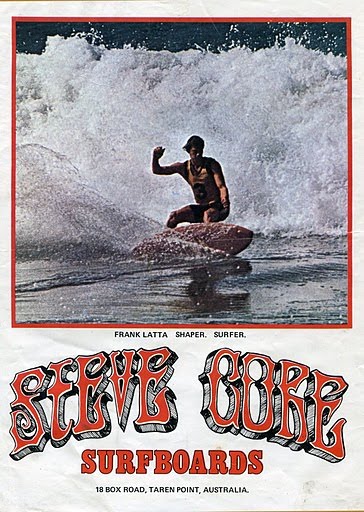 Gary Hughes
Posted: January 19, 2012 at 6:44 pm
From the pages of Steve Cores "Surf Magazine" that was around in the late 70's. Gary Hughes carving for Dave Shaw's camera lens. Core's mag was chock full of Cronulla based riders and waves  and it gave the Southside some much deserved recognition and a breath of fresh air rather than the usual Northside push in all the other Oz publications at the time.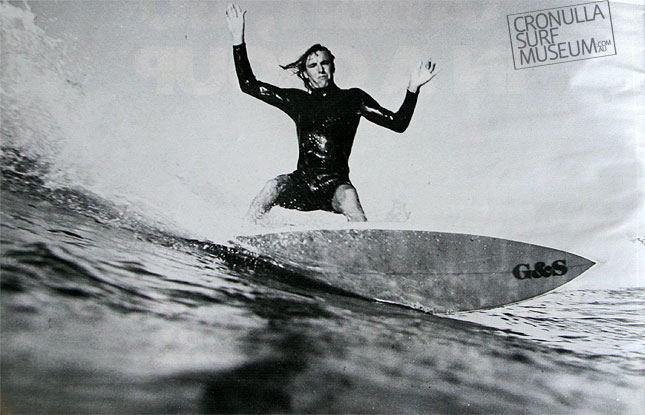 Ocean Rhythms
Posted: September 16, 2011 at 4:02 pm
Around the mid 70s local surfer, photographer, shaper and magazine mogul produced the 16mm film Ocean Rhythms this adv. appeared in Surfing World Vol 22.