Section 8 – G&S Shape.
Posted: February 21, 2016 at 9:53 pm
Robert Conneely G&S Shape
Posted: February 21, 2016 at 9:47 pm
Colin Eagle 6ft 10in G&S Design
Posted: January 25, 2016 at 4:56 pm
G&S Flex Tail Kneeboard 70s
Posted: December 16, 2015 at 11:14 am
G&S 1970.
Posted: August 31, 2012 at 12:37 pm
Gordon and Smith testimonial advertisement from 1970 featuring the Bob Brown (blonde  Bobby) surf shop on the Kingsway.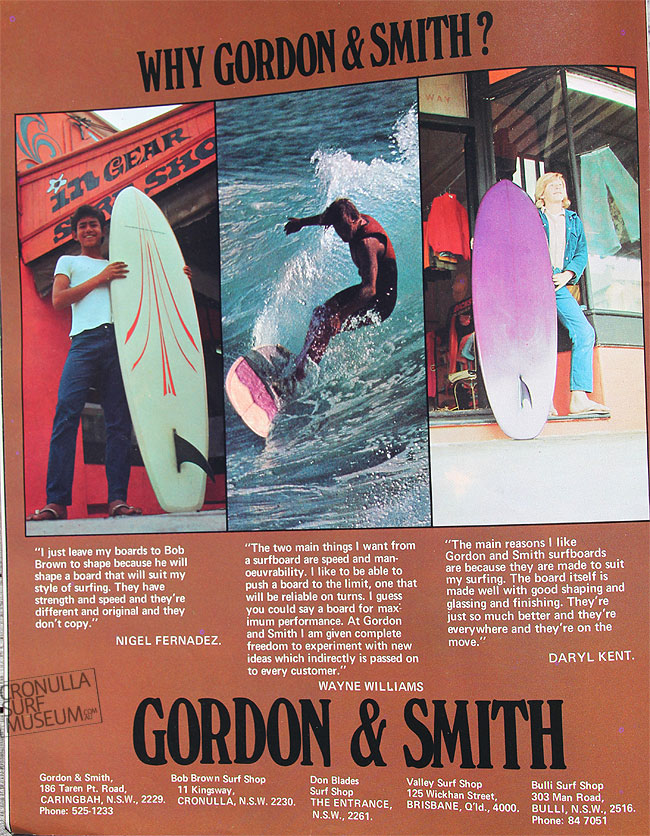 G&S Advertisement.
Posted: March 8, 2011 at 7:26 pm
Gordon and Smith pumping out the goods in the late 70's. Featuring PT from the pages of Tracks.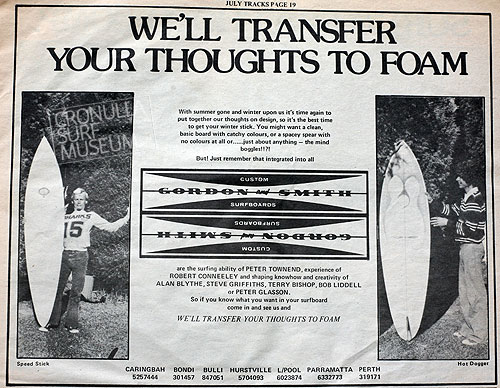 G&S Moves Factory.
Posted: February 23, 2011 at 8:38 pm
70's advertisement for Gordon and Smith showing the crew moving from the old factory on Taren Pt road into the new factory digs on The Boulevarde where it remained for several decades.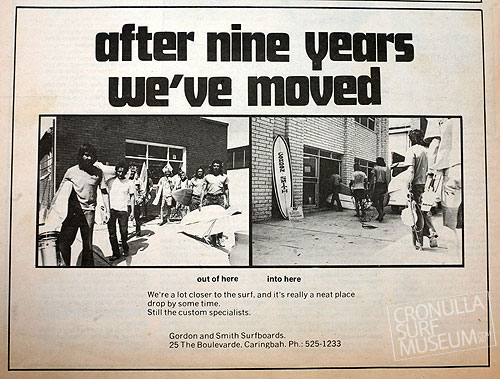 G&S – The Stretch.
Posted: December 14, 2010 at 9:33 pm
A Gordon and Smith advertisement featuring The Stretch Model from the mid 60's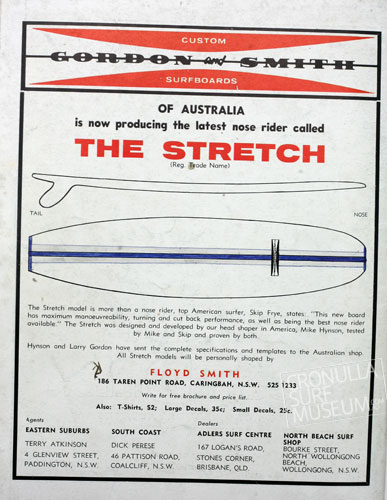 PT and G&S
Posted: October 25, 2010 at 2:41 pm
Peter Townend the 1976 World Champion called Cronulla home for a few years. He was a regular sight surfing The Point on his pink surf board in an era where wearing no fluro colours and black wetsuits was almost compulsory.PT's tube riding performances at Second Reef were legendary and soon earned his spot in the lineup. This G&S advertisement was from 1978 promoting PTs Hot Stuff model with the bottom turn shot taken at The Point.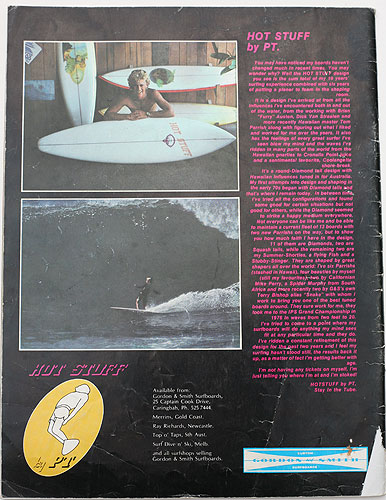 Bobby Brown and G&S.
Posted: October 13, 2010 at 5:59 pm
This advertisement for Gordon and Smith appeared in Surfabout Magazine Vol 4 No2. sometime around 1966. It featured Southside legend  Bobby Brown and his Stringerless Model…the sales pitch was its Bold, Daring, Exciting and Fundamental.