Glenn Pringle – Strike Force
Posted: June 13, 2012 at 2:32 pm
Glenn made his debut on video in Tim Bonythons video "Strike Force". The film featured all the current Piping Hot team. This day Glenn and I headed over to Narrabeen to meet up and shoot footage with Tim. The waves were cracking and the shot below was from a 4 shot seq. Photo Chris Stroh mid 80's.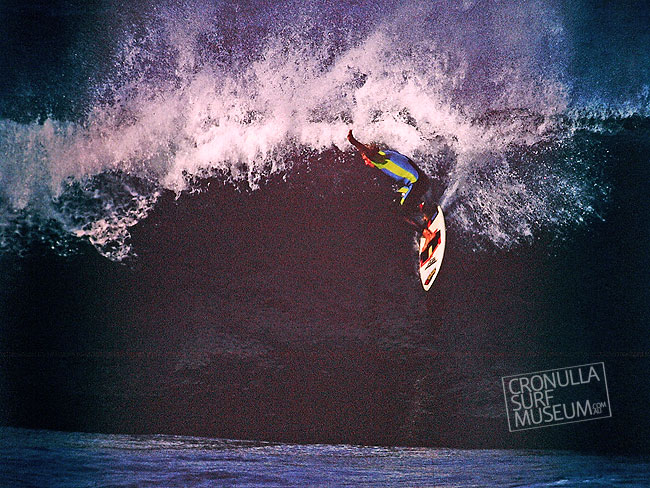 Glenn Pringle
Posted: April 12, 2012 at 9:56 am
EBC clubs most successful surfer over the years Glenn Pringle, was a regular out at The Point whenever the waves turned on some juice. This pic he's riding his McCoy bigger wave board than his usual Lazor Zap design on a solid day back in the early to mid 80's photo Chris Stroh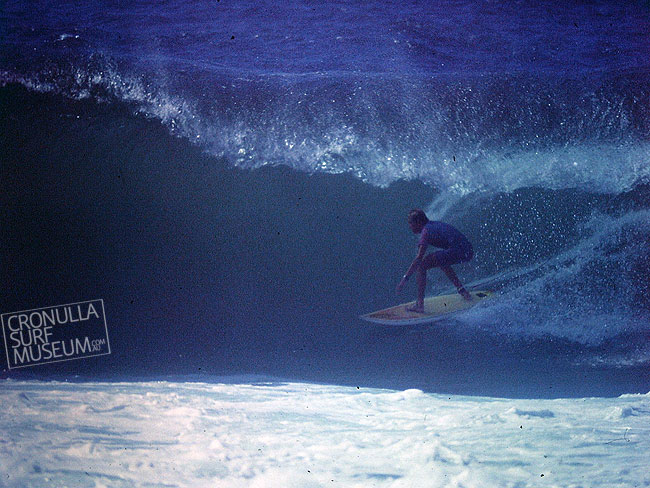 Glenn Pringle
Posted: March 10, 2012 at 9:25 am
Around '83 when this pic was snapped Glenn was just beginning to make a name for himself. Picking up a sponsor with McCoy and on his Lazor Zap he was competing against the likes of Nicky Wood and Luke Egan and regularly beating them. One of the best competitive surfers to come  out of Cronulla. Elouera Beach photo Chris Stroh.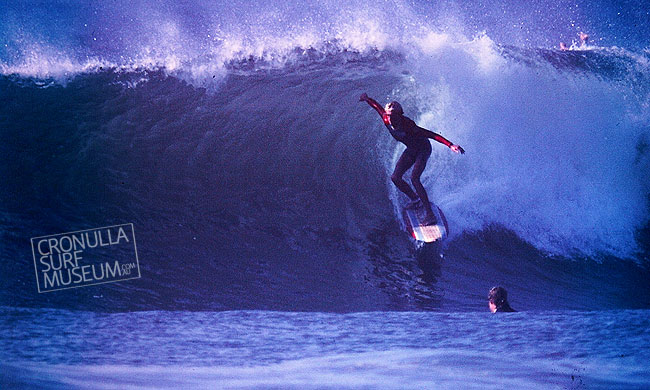 Power In The Bowl
Posted: December 24, 2011 at 11:45 am
Surf League brought out the best in Elouera Boardriders Club. At this Bondi comp mid 80's EBC main-man Glenn Pringle gets into the spirit of the Dunny Hangers club spirit to rally up the troops. Photo Stroh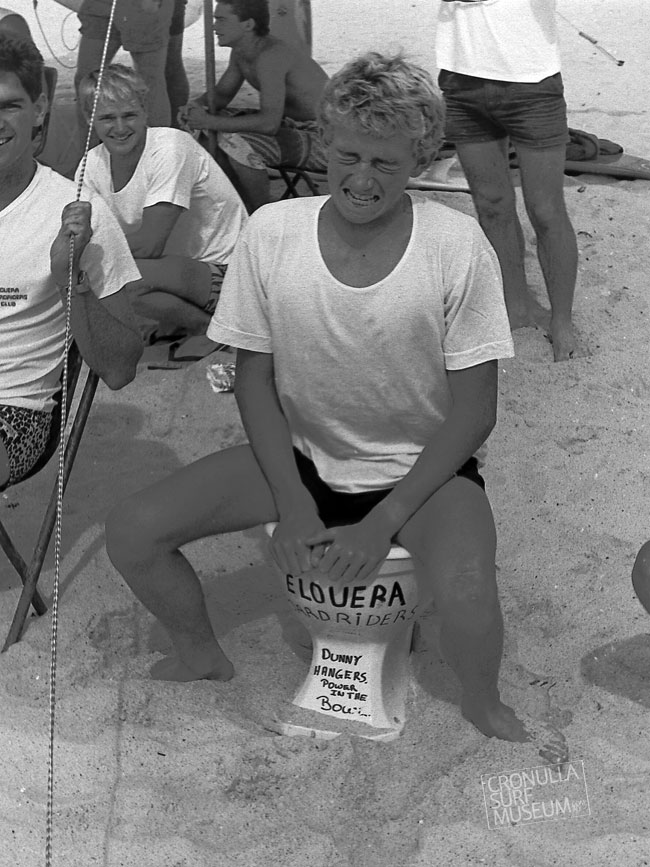 Pring and Gopher
Posted: November 24, 2011 at 7:42 pm
Glenn Pringle and Darren "Gopher"Watkins..winners are grinners State elliminations Circa 80's photo Stroh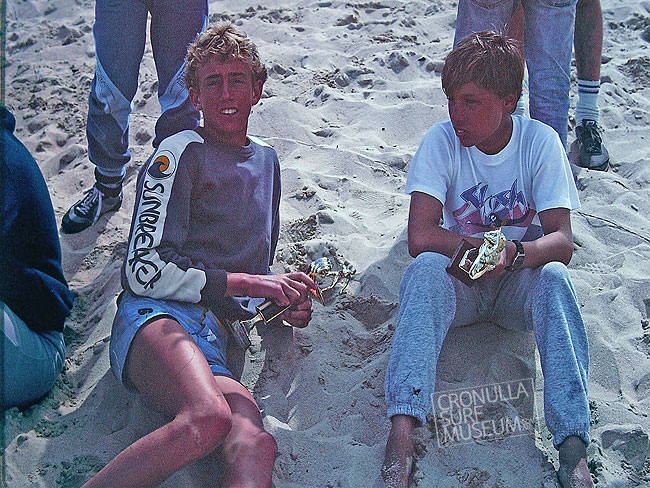 Ash and Pring
Posted: August 18, 2011 at 2:42 pm
Two of EBC's board clubs biggest stars in '83. Good mates but deadly rivals in competition. Ashley Gee and Glenn Pringle. Check out Glenns McCoy Lazer Zap photo Stroh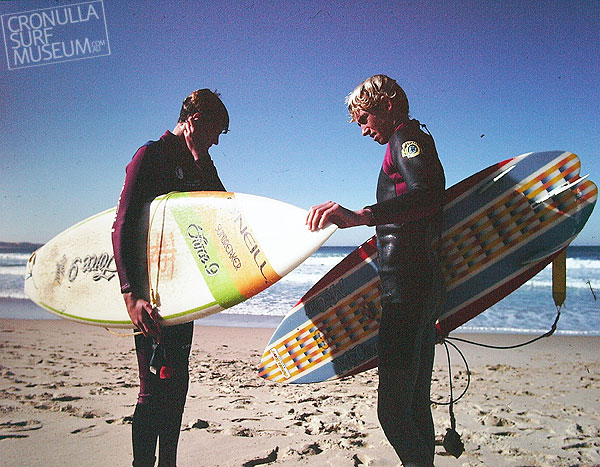 Glenn Pringle
Posted: July 28, 2011 at 11:36 am
Longtime EBC mainman and numerous club champion Glenn Pringle is well known around the beachies and winners circle for his consistent ripping. Glenn's also pretty talented and capable when those southerly swells start pumping at the local reefs and Points . This shot was taken at Sandon Point in the late 80's. Tom Carol turned up as well and the pair shared an empty session with virtually no one else out, the waves were cracking so it was a rare moment to have it alone. Photo Stroh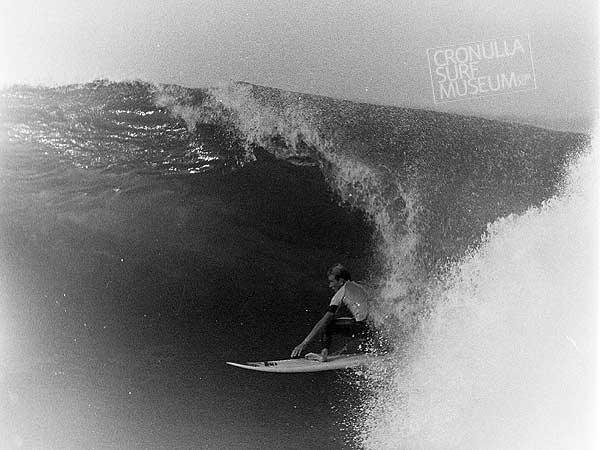 Glen Pringle
Posted: March 11, 2011 at 7:15 pm
Young Glen would rather catch waves anyday than posing for adv. shots for his sponsors. This piccy was taken in the early to mid 80's for Catz.Photo Chris Stroh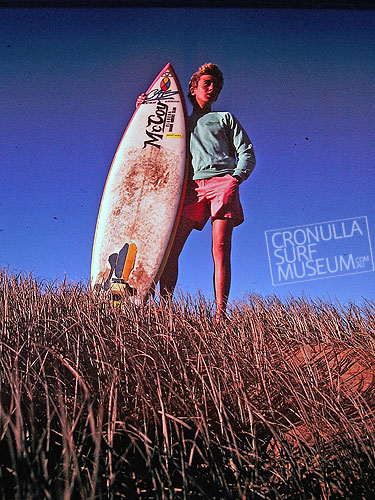 Glenn Pringle
Posted: February 1, 2011 at 6:47 pm
EBC life member Glenn Pringle getting his fins out at The Dunny Bowl for Mat & Co early 90's.Photo Chris Stroh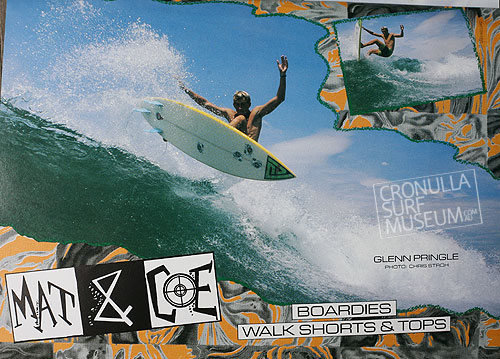 Glen Pringle
Posted: December 4, 2010 at 9:15 pm
Trust your mates, Glen wins the EBC Club championship and is rewarded with a Fat-O-Gram. Pic Chris Stroh