Roach Approach
Posted: August 18, 2012 at 2:26 pm
Wayne Roach is one of the evergreens of Cronulla surfing. Roachy has been around that long he's part of the furniture, even though he works in Torquay these days he's still a Cronulla boy through to the core. Roachy has many tales to tell like this snippet from a recent email. " I went to Gisbourne 1973 Mum gave me the air fair for my 21st, got a lot of the spots on I was doing a lot of surfing with Mick Peterson at the time he shaped me a filthy stick at Southern Comfort 4the trip to NZ. The board was ahead of its time I glassed it so light the Kiwi's went burko over it, still got the template".  This pic Roachy at Jan Juc 2006.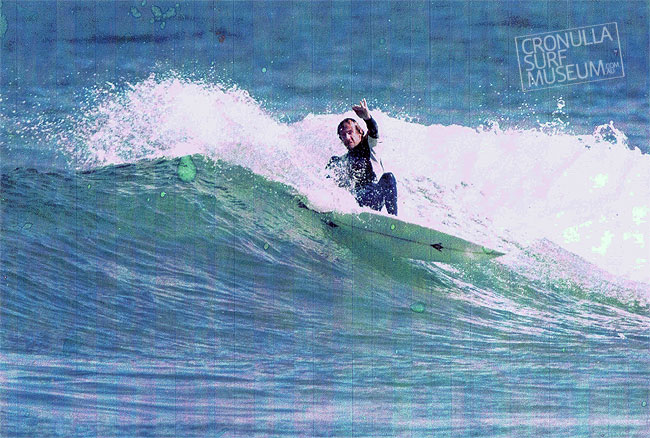 Andy King
Posted: April 12, 2012 at 10:26 am
This photo of Andy was taken at Suckrock probably late 90's or early 2000. Andy was just hitting his peak and was all over the mags and contests riding for SMP clothing. A decade and some earlier Andy just a skinny grommet at the time bought his first surfboard ( a battered old Waterforce) off Craig Stroh. The pair would hook up again in the coming years as it was Craig who took the pic of Kingy below and many others. Such a natural cruiser, loving life in the barrel.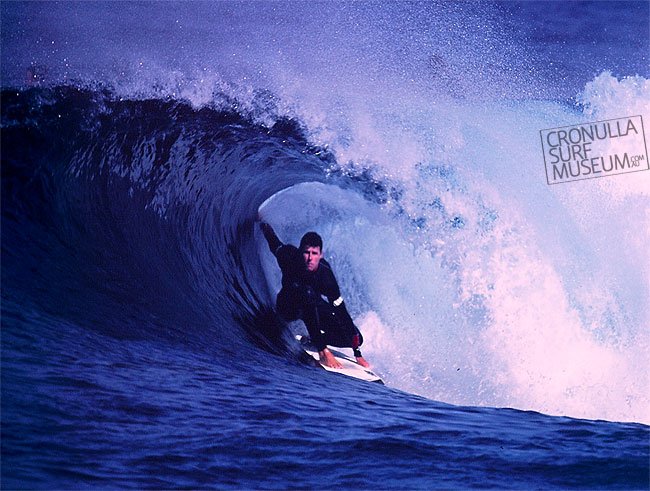 Cronulla Sharks Boardriders photo by John Veage
Posted: March 27, 2012 at 8:00 pm
Two powerful symbols of Cronulla, The Cronulla Sharks Boardriders Club arguably the most successful club in Cronulla's surfing history and Old Joes Milkbar. This image appears on a beach memorial down on The Alley foreshore taken by John Veage. Late 80's.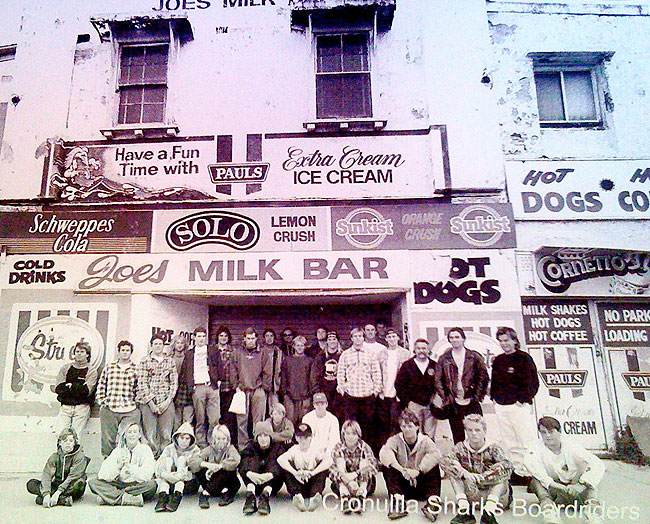 Ratso
Posted: March 10, 2012 at 9:13 am
Ian  "Ratso" Buchanan blew into Cronulla around '79 from  New Zealand and over the next decade he called The Shire home. He hooked up with Cronulla Boardriders Club and had a shot at the Pro Ranks. His best result being 36th on the World Tour in '84. Recently Ratso was made a life member of CBC. This photo caught the Kiwi battler on a Rockpool left during a size-able North East swell around 1990, pic by Stroh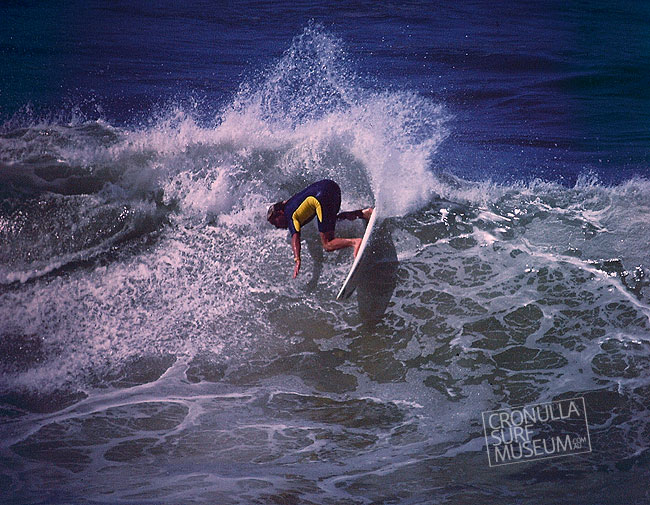 Deano Whiteman
Posted: January 28, 2012 at 10:39 am
Dean was one of Cronulla Boardriders top performers throughout the 80's. In '81 and '82 he was  the Club Cadet Champion, In 84 he was the Clubs Junior Champ and in '88 he took out the prestigious Open Club title not an easy task with the calibre of riders who have waved the CBC flag over the years. Photo Chris Stroh  Alley shorey Circa 90's.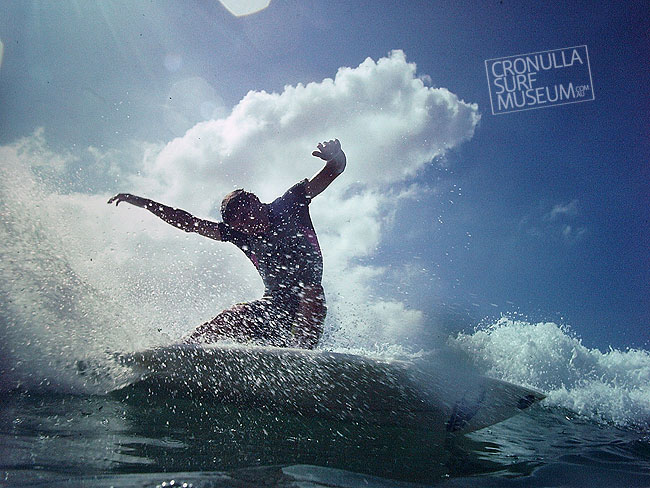 Richard Maurer
Posted: December 24, 2011 at 12:34 pm
Cronulla Boardriders anchor man Richard Maurer was a powerful surfer from Kurnell. Growing up with Occy, Dog, Beaver and the rest of the KP crew its not surprising  that  some of that brillance would rub off. This shot of Richard at  The  Alley by Chris Stroh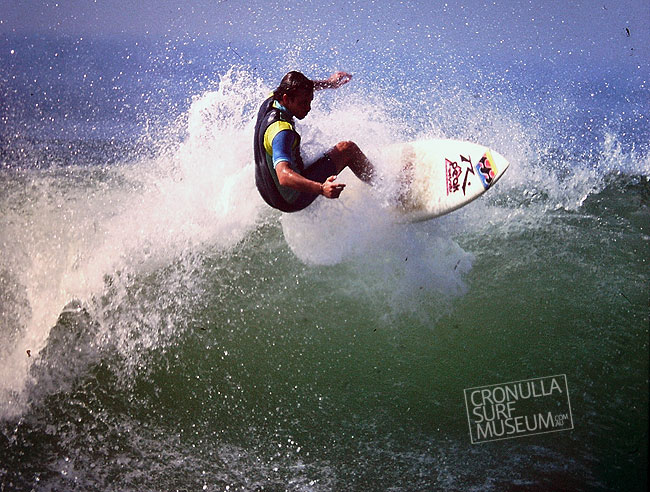 Deano
Posted: November 24, 2011 at 7:38 pm
Dean Whiteman went on the world tour for several years before returning home to Cronulla feeling homesick for his beloed Sharkies and Alley mates. This shot was taken at The  Point late 80's by Stroh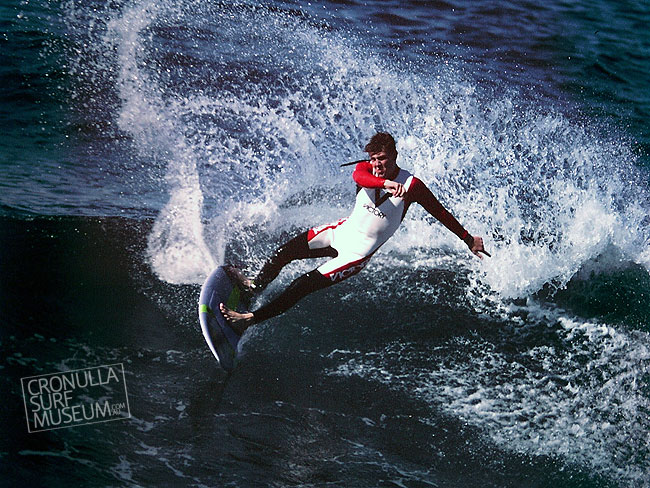 Fanga Tyte
Posted: October 19, 2011 at 4:11 pm
This shot of Fanga doing the budgie smuggler boogie out The Point was taken in 1981. by Chris Stroh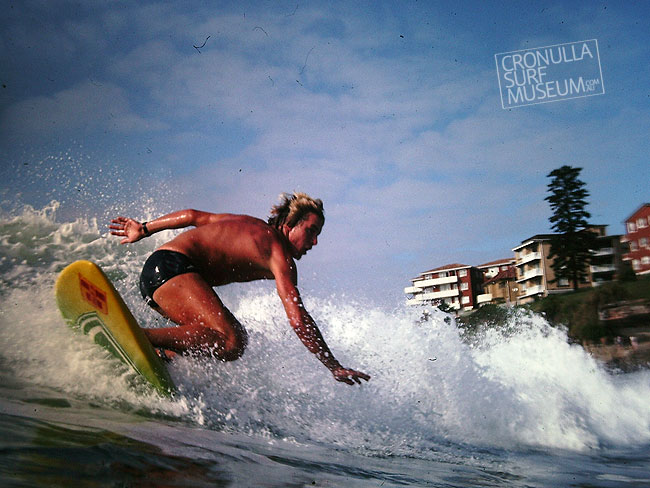 Wayne Roach
Posted: September 26, 2011 at 2:48 pm
Surfer and Shaper extraordinaire there's not much Roachy doesn't know about Cronulla's history as he has been an integral part of the industry for most of his life and is probably best known for his Roach Approach shapes. "Winning" at Midway for the Southside State eliminations photo Stroh Circa mid 80s.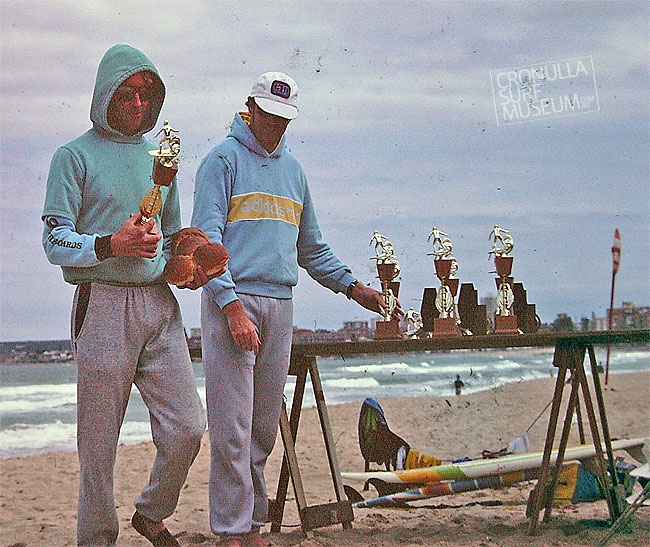 Greeny
Posted: September 21, 2011 at 5:16 pm
This shot was taken at Maroubra during a comp capturing Greenny throwing a bit extra style as he whips it off the bottom . He's riding for Platts. Early 80's pic Strohy